It's good to have confidence in your cannabis growth. When you have decided to grow your own marijuana plants at home for your personal use, you want to feel like you are on top of things. Sure, you could just wing it, but that will make things trickier. It pays to lean on those with some information to provide. Here at Growers Choice Seeds, we know all about the cannabis seed business. We sell high-quality seeds all over the globe, delivering our seeds to customers like you. We have experienced marijuana growers who keep coming back to us for their seeds, as we have offerings for dozens of popular strains. Many of our customers are new to growing marijuana plants, though. We can deliver them high-quality seeds, but we can also provide insight when it comes to growing marijuana. Now, we can't be there to do it for you, but a few well-placed tips here and there can really help out a novice. OK, so you've bought your seeds and have had them delivered. What comes next? Well, it's time to talk about how to sprout cannabis seeds. Having a handle on how to sprout seeds will be huge if you want to be successful at growing cannabis at home.
Compare Our Premium Cannabis Seeds
Compare Our Cannabis Seed Strains
Why do I need to know how to sprout cannabis seeds?
What is sprouting? What does it matter if your cannabis seeds sprout? Aren't sprouts those things you have to specifically ask for at Jimmy John's? Well, have you ever heard of germinating? Maybe you've seen talk of germinating cannabis seeds. Well "germinate" and "sprout" are synonyms for one another. A germinating seed is a sprouting seed. A seed sprouts when, well, it cracks open and a sprout begins to grow from it. That sprout is the first step of your marijuana plant growing until it reaches its final form. Basically, sprouting is the beginning of the growing process for your cannabis. If your plant doesn't sprout, it doesn't grow. That's why you need to know how to sprout cannabis seeds. If you don't do it correctly, or you don't try at all, your seeds aren't going to become plants. Now, that may sound daunting, but sprouting cannabis seeds is a simple process you can do with materials you likely already have at home.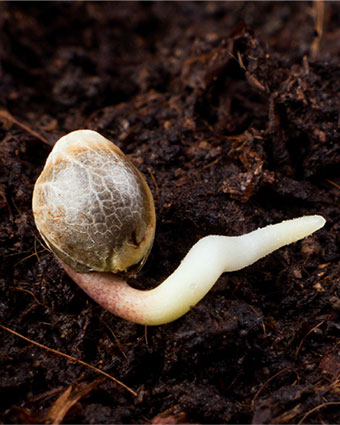 You can tell me how to sprout cannabis seeds then?
We sure can! Let's start by collecting all the tools of the trade. You have your cannabis seeds, of course. You also will need distilled water, two clean plates, and some paper towels. We'd say four to six sheets of paper towel personally. First, take one of those plates and set it out. Then, get a couple of sheets of paper towels and dampen them with distilled water. Leave them damp, but not wet. Your paper towels shouldn't be dripping water. Take those paper towels and place them on that plate you set out. Then, lay your seeds out on the paper towels. Space them at least one inch apart from one another. Take the remaining paper towel and dampen them as well. Put them on top of the seeds. Finally, take that second plate and put it atop the whole shebang to create a dome. Now, all you need to do is place your sprouting contraption somewhere warm. We're talking 70 to 85 degrees Fahrenheit. That's it! Sprouting requires air, water, and heat. This is the simplest way to do it, and it protects the seeds as well as they begin to sprout.
I know how to sprout cannabis seeds at first, but what comes next?
You don't merely set the plates and the seeds aside when you are sprouting them. Check on the seeds every day. Check on the paper towels as well. If they aren't damp anymore, add a little water into the mix. Again, don't leave the paper towels too wet. Your seeds may germinate within three days, and they will likely sprout within three to 10 days. If seeds don't sprout after two weeks, they likely won't. Sadly, some seeds are duds. What do you need to look for in your seeds? The seeds should split open and a sprout should start to emerge. This is called the taproot. The taproot will grow into the marijuana plant that you are looking for. Once, you've seen the taproot emerge and your seed has sprouted, it's time to move them to where they are going to be growing. Now, it's important to keep the seed and the taproot clean, so move them with clean tweezers. Pick it up and move it over to the growing medium, presumably soil. From there, it will be time to turn those sprouting seeds into a full-fledged marijuana plant.
Is there a way Growers Choice can help me now that I know how to sprout cannabis seeds?
Being able to sprout cannabis seeds only helps if you have quality seeds, to begin with. That's where Growers Choice Seeds comes in. The seeds we deliver to you are lab tested and hand selected. Not only that, they come with a germination guarantee. That's right, Growers Choice has a germination guarantee on all of our orders! We guarantee that assuming you properly approach sprouting your seeds, at least 90 percent of your seeds will germinate. If that doesn't happen, we will replace your seeds. You take your seeds, you place them on those damp paper towels under those plates somewhere warm, and you keep an eye on those seeds. If a couple of them turn out to be duds, let us know and we will replace them. With that guarantee combined with your new knowledge of how to sprout cannabis seeds, you are well on your way to growing your own marijuana plants successfully! Now it's time to figure out what strains to buy seeds for. We have indicas, sativas, hybrids, and more. Each of them comes with a germination guarantee! That goes for popular strains including:
White Widow
Gorilla Glue
Lemon Skunk
Jack Herer
Candy Kush


Buy Cannabis Seeds Now: Some Of Our Best Seller