Alright, let us set a scene. You have procured cannabis seeds. You are ready to grow marijuana at home for personal use for the first time. How exciting! You can't wait for your plants to grow, flower, and enjoy the fruits of your labor. You imagine cultivating those buds of whatever strains you are growing and enjoying the marijuana experience. Of course, you can't just cut to that. This is a process, and it begins when you plant those seeds. You have all the equipment you need for your cannabis growing at home. The seeds are planted, and now you are waiting. What's the key step in the process? When those seeds germinate. Once your seeds germinate, you can breathe a big sigh of relief. A box of great significance has been ticked off. Now, you just need to get to that point. What does it mean for a cannabis seed to germinate? How do you germinate cannabis seeds? We will tell you all about that, and also let you know how going with Growers Choice Seeds can eliminate all the worry about cannabis seed germination for you.
Compare Our Premium Cannabis Seeds
Compare Our Cannabis Seed Strains
Why is it important to know how to germinate cannabis seeds?
Germination is the first step in growing your plant. It's the first sign that all is well with your seeds. When a seed germinates, that means it has sprouted. A seedling has emerged from the seed, and the plant has begun to form. If a seed does not germinate, that effectively means it is a dud. You can't get a plant of any kind, including a cannabis plant, without sprouting. Now, for a major growing operation, like a legal cannabis nursery or what have you, the occasional dud seed is a disappointment, but a drop in the bucket. You, though, are only growing a few plants at a time. Plus, unlike large-scale operations, you didn't get your seeds wholesale. A seed that doesn't germinate is a real disappointment and a bit of a waste. You want all your seeds to germinate, and you know what? We want all your seeds to germinate as well.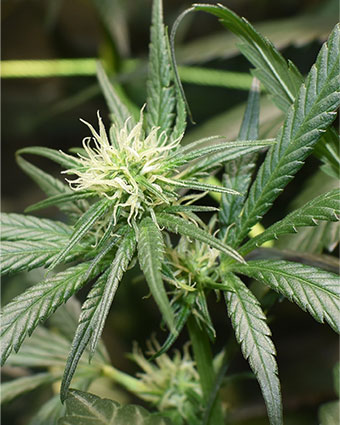 What is a simple method for how to germinate cannabis seeds?
As nice as it would be, cannabis seeds won't just germinate themselves. This will take some effort on your part, but don't sweat it. It's fairly easy to do and can be done for quite cheap. In order to get cannabis seeds to germinate, the seed needs water, air, and heat. Hey, those are all things that aren't hard to find. There is also a simple way to "McGyver" a germination method. This is a time-tested way to germinate cannabis seeds that have been done by thousands of marijuana growers at this point. OK, so maybe the big-time professionals are a little more high rent, but any home grower can do it simply. Take four pieces of paper towels and soak them in distilled water. Wring them out so that they are still fully damp, but aren't dripping off any excess water. Place two of them on a clean plate. Then, put your marijuana seeds on those paper towels, spacing them at least an inch apart. Then, put the other two paper towels on top of the seeds. Take another plate and place it face down on top of the other plate and the whole contraption you've put together to create a dark domed space for the seeds to sprout. Put the whole thing somewhere that the seeds will be warm. We're talking 70 to 85 degrees Fahrenheit. Once a day check the paper towels to make sure they are still wet enough. If not, add a little water to the mix. Try using a spray bottle. That way, you don't have to move the paper towels, the plate, or the seeds around.
Now that I know how to germinate cannabis seeds, what should I be looking for?
Cannabis seeds can germinate in as few as three days and sometimes as many as 10. The general rule of thumb is to give them at least 14 days. At that point, if a seed hasn't germinated, it isn't likely to do so. You will know the seed has germinated if it splits and a single sprout, known as the taproot, emerges. Now, once the taproot emerges, it is time to move the seed to soil or whatever your growing medium is. However, it is important to keep the seed and the taproot sterile at this point, so don't be touching them with your hands if they are dirty. It's a delicate process, but one that is well worth it. We recommend using tweezers for moving the germinated seed. Of course, you'll want to make sure those tweezers are sterile, but that's manageable to be sure.
I know how to germinate cannabis seeds, so what if something is wrong with my seeds?
As we noted, sometimes a seed is a dud and does not germinate, even if you did everything right. You had a nice warm, dark, damp space for the seeds. You did everything you could to germinate them, but some seeds did not sprout. It may have had nothing to do with you, and that's not fair to the at-home grower. That's why if you go with Growers Choice Seeds, you will get our germination guarantee. We lab test and hand select all our seeds. That leaves us feeling confident in our product. Now, the occasional dud may still arrive, but this is what we promise our customers on the germination front: If at least 90 percent of your seeds don't germinate, we will replace them free of charge. Let's say you bought 10 seeds from us. You set out to germinate them. Eight sprouted, but two did not. Even though it's only two seeds, that would mean we failed at our germination guarantee. Let us know, and your seeds will be replaced. Best of luck germinating your seeds! Buy some from Growers Choice today for popular strains such as:
Diesel
Tangerine Dream
Hindu Kush
Lemon Skunk
Ghost Train Haze


Buy Cannabis Seeds Now: Some Of Our Best Seller