The evolution of the cannabis industry continues apace. These days, more and more people are growing their own marijuana plants at home for personal use. Why not? The legalization of marijuana is proliferating around the globe, especially in the United States. Why might you want to grow your own marijuana? Well, it's rewarding, for starters. However, let's be a bit more practical about why to grow marijuana at home if you are a weed enthusiast and a cannabis aficionado. When you grow your own marijuana plants, you control the whole situation. You know where your seeds came from, you saw your plant grow, and you were controlling the process. Thus, you can trust the pot you smoke. Also, you will save money, in time a lot of money. All you have to pay for is your seeds and whatever you are using in your growing operation. If you grow marijuana outside, that may be very little output in terms of equipment. That'll save you a lot of cash in the long run. Of course, you can't grow marijuana unless you have seeds, which means you need a source of seeds. That's where Growers Choice Seeds comes in. Let us tell you all about our company, so you can learn about Growers Choice Seeds, and also Growers Choice seeds.
Compare Our Premium Cannabis Seeds
Compare Our Cannabis Seed Strains
What is Growers Choice Seeds?
Growers Choice Seeds is a global cannabis seed bank. What is a cannabis seed bank? Well, it's a company that stores and sells cannabis seeds. We have seeds for dozens of strains, and we deliver them all over the world. Yes, we add the convenience of delivery to the mix. However, there is more Growers Choice Seeds does as a cannabis seed bank. Like a quality cannabis seed bank, we also feminize our seeds. We offer fully-feminized seeds to all our customers growing marijuana at home for personal use. Why do you want fully-feminized seeds? Because they guarantee you female marijuana plants. You need female plants because only they provide you with buds, and the buds contain most of the THC in a marijuana plant. THC is the psychoactive element of marijuana, so without that THC, you can't enjoy a nice marijuana high. When you get seeds from Growers Choice Seeds, you can guarantee yourself female marijuana plants each and every time.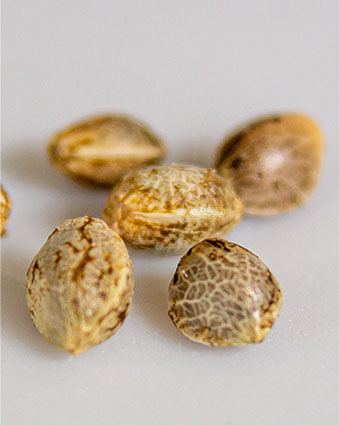 What else can Growers Choice Seeds do for me?
Alright, you know Growers Choice Seeds is a cannabis seed bank. You know we offer fully-feminized cannabis seeds, which guarantee you THC-laden buds on your plants. What else can Growers Choice Seeds offer you? We lab test all of our seeds, which ensures quality. On top of that, seeds are hand selected for every order. Nothing comes prepackaged. We care about the quality of your seeds, and your experience. In fact, Growers Choice Seeds offers a germination guarantee on every order. Germination is when your cannabis seeds sprout. If at least 90 percent of your seeds in your order don't germinate, we will replace them. That gives our customers added peace of mind! Growers Choice Seeds wants to make it as easy as possible for you to grow high-quality plants, and if your seeds aren't up to snuff, that is difficult. By the way, we also offer bulk seeds at wholesale prices, but that's only really for marijuana nurseries and large-scale growing operations. If marijuana growing is your hobby, not your business, that is too many seeds for you. If you are in the marijuana business, though, come check out what we have to offer you on the wholesale seeds front!
What kind of seeds are available from Growers Choice Seeds?
There are an assortment of great options from Growers Choice Seeds. Each of them fully feminized and part of our germination guarantee, of course. We have sativas, which are energizing strains good for a heady high. We have indicas, which are relaxing and help you decompress. There are hybrids as well, which mix the sativa and indica experiences. Many of our strains are Cannabis Cup winners. Additionally, we have high-CBD medical strains. These strains are better for medical usage, because CBD can benefit your health, but these strains are low in psychoactive THC. Many of our strains are available in auto-flowering form as well. These seeds grow plants that flower automatically, as opposed to flowering based on the lighting cycle. That can be easier for people who are new to growing marijuana at home. Growers Choice Seeds can provide you with what you need. Options abound. Why not try a new strain? You can do that while also growing an old favorite at the same time!
What are some of the popular strains sold by Growers Choice Seeds?
We may be biased, but if you want to buy seeds to grow marijuana at home, we don't think you will find a better option than Growers Choice Seeds. We've already explained what we, as a premier cannabis seed bank, do. We deliver our fully-feminized cannabis seeds all over the globe, providing a germination guarantee on every single order. All you need to do is visit the Growers Choice Seeds website and look through our catalog of cannabis strains. Ah, but what strain to go with? A sweet sativa? A skunky indica? A peppery hybrid? There are so many options available at Growers Choice Seeds, and we add more strains all the time. It's all part of our desire to give our customers the best experience possible. Growers Choice Seeds has dozens of cannabis strains, but some are certainly more popular than others. If you believe in the wisdom of the crowds, you may want to go with one of the top strains we offer in terms of popularity. Those seeds will, of course, be fully feminized, lab-tested, and hand selected. What are the most popular strains that Growers Choice Seeds have on offer? Currently, it's these strains, and if you want to give them a try, place your order soon so we can get your seeds delivered to you now!
Critical Purple
Diesel
Gorilla Glue
Tangerine Dream
White Widow


Buy Cannabis Seeds Now: Some Of Our Best Seller