There are people out there looking to buy cannabis seeds. We know that because here at Growers Choice we sell cannabis seeds to customers all over the globe who are growing plants at home for personal use. As the legalization of marijuana increases, we expect more and more customers. However, as you get into growing cannabis plants, you need to learn some things so that you can be an informed, better marijuana grower. When you are just using marijuana, there are elements you need to know and learn about. You are concerned about flavors and aromas, and also what kind of strains you are using. Do you want an energizing sativa? A relaxing indica? You figure it out, and when you buy your strains and you enjoy them. When you are a plant grower, though, there is more to consider. You still have your favorite strains, but now you also have to concern yourself about seed quality and seed type. Growers Choice Seeds can make it easy to buy seeds, but we make sure the seeds are also quality. We don't just store and sell seeds, we also provide fully-feminized cannabis seeds. What are feminized cannabis seeds? We'll get into that, and why you will really want to make sure any seeds you buy for your home use are fully feminized.
Compare Our Premium Cannabis Seeds
Compare Our Cannabis Seed Strains
What are feminized cannabis seeds?
There are different kinds of cannabis plants. We aren't talking about strains or anything at this point. There are female plants, male plants, and "hermie" plants. Seeds are feminized in an attempt to make sure they grow female plants. If a cannabis seed is fully feminized, that means it is going to grow a female plant. If you don't know whether or not a seed is feminized, then you wouldn't know what kind of plant it is going to grow. With Growers Choice, our fully-feminized cannabis seeds mean female plants.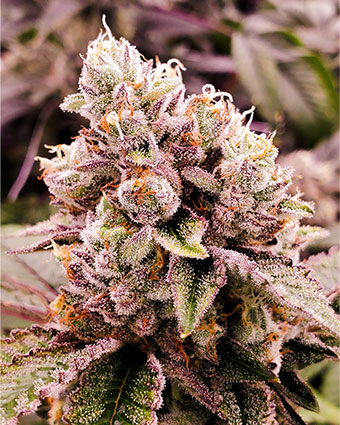 Why is it so important to have feminized cannabis seeds for my grow?
Alright, so why is it so important for your cannabis seeds to be feminized? Is the marijuana industry a matriarchy? It's all entirely scientific, we assure you. What do you want from your marijuana plant? You went through the effort of getting seeds, planting them, and nurturing your plant so that it would grow. Your end goal? You want THC-rich buds that you can use. THC is psychoactive, and it's why marijuana makes you feel high. The entire point of growing your marijuana is to then enjoy it. Without those buds, and without THC, you aren't going to have the marijuana experience you are looking for. Well, you aren't getting those buds without a female plant. Only female plants yield THC-filled buds. Male plants are still marijuana, but you aren't going to get the buds you are looking for. You're out of luck. As such, if you are just planting any old cannabis seeds, you don't know if you are going to get a female or male plant. It's a gamble. With fully-feminized cannabis seeds, though, you know you are going to get a female plant, and you know you are going to get THC. Now it's clear why it's so important to have feminized cannabis seeds, right?
What does Growers Choice Seeds provide other than feminized cannabis seeds?
We offer fully-feminized seeds, which is huge for at-home marijuana growers who don't want to spend money on seeds that end up growing male plants. On top of that, Growers Choice Seeds offers delivery to customers all over the world. What else helps make our seeds stand out from the competition? All of our seeds are lab tested. That helps us ensure the quality of our seeds. If a seed doesn't pass the test, we won't be selling it to our customers. Additionally, all seeds are hand-selected for each and every order. Think of that as our final rundown of the checklist, like what they do right before a flight takes off. We are so confident in our fully-feminized cannabis seeds that we offer a germination guarantee. If at least 90 percent of the seeds in your order don't germinate, we will replace your order. You read that right. Not only do we guarantee female plants, but we also guarantee germination as well. By the way, we also have auto-flowering seeds that will flower based on age as opposed to the traditional light cycle.
What popular strains are available in your feminized cannabis seeds?
Now that you know what we make sure our seeds are fully feminized, let's highlight some of the best strains we have available to you. We have indicas, hybrids, sativas, and high-CBD medical strains, you name it. That also includes some Cannabis Cup winners. We even have old-school Cannabis Cup winners like Northern Lights, Skunk #1, and Jack Herer. Our most-popular strain at the moment is Diesel. Another popular strain is the high-THC White Widow, which is available in an auto-flowering version as well. Want a nice Kush, or a purple weed strain? Growers Choice Seeds has you covered there as well. And, of course, you can enjoy the THC content of a strain like White Widow because you know your plants will be female. Our feminized cannabis seeds ensure that. Our lab testing ensures the quality of those seeds. Our germination guarantee gives you peace of mind. Go with the company that will provide you with fully-feminized cannabis seeds each and every time. You aren't just a marijuana user now. You are also a cannabis grower, and that means getting to know more about the plant and how to grow it. Now you know to look for feminized seeds and can make sure you are getting female plants. Plants that you can enjoy in dozens of great strains. Want to try a new strain? Why not try one of these? At least you will know that you'll get those THC-rich buds you are looking for.
Hindu Kush
Critical Purple
Tangerine Dream
Ghost Train Haze
Lemon Skunk

Buy Cannabis Seeds Now: Some Of Our Best Seller