It all starts with seeds. You can't get a cannabis plant without a seed being involved at some point. If you are growing cannabis at home so you can enjoy it for personal use, seeds are part of the process. Sure, cloning your weed plants may become part of the process eventually, but when you are starting to grow a new strain, you need seeds. Growers Choice Seeds is a top seed bank that gives growers both new and experienced the kind of quality they are looking for. Part of that is the fact we go the extra mile to feminize all our seeds, making them fully feminized. What are female cannabis seeds, though? And why does that matter? Rest assured, fully-feminized seeds are the way to go for your home growing. For a merry marijuana experience, female cannabis seeds are the name of the game. Allow us to explain why, and show you the ropes when it comes to the best female cannabis strains, and the top strains, on the market.
Compare Our Premium Cannabis Seeds
Compare Our Cannabis Seed Strains
Why do I want female cannabis seeds?
When you are using fully-feminized cannabis seeds, you know one thing about your plant. Namely, it is going to be a female marijuana plant. Why should you be so determined to have a female plant? What's the concern about getting a male plant in the mix? It's all in the biology, baby. We aren't trying to install some sort of marijuana matriarchy. The fact of the matter is that only female marijuana plants will provide you with THC-rich buds. When you grow marijuana, what is it that you want? It's the THC! Those buds are the end game each and every time. When you have a large growing operation, the occasional male plant is not a big deal. Better luck next time and all that. You, though, are an at-home grower working with limited space, and also only growing so many plants at once. A male plant for you is kind of a waste. If you can guarantee a female plant, why wouldn't you want to do that? The only way to make that happen is fully-feminized cannabis seeds, and at Growers Choice, we only sell our customers female cannabis seeds. Your marijuana plants will be female, and thus rich in THC.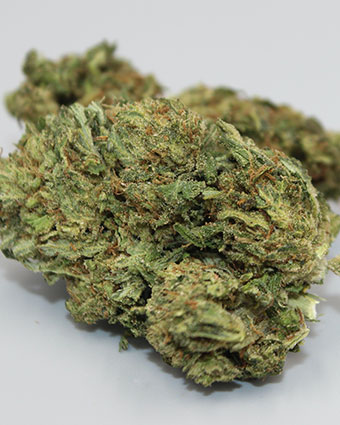 What else do your female cannabis seeds provide?
OK, so we can guarantee you fully-feminized cannabis seeds, and thus female marijuana plants. What else does Growers Choice Seeds offer its customers? Oh, how about seeds that have all been lab tested for quality? Sounds pretty good, right? Also, before we deliver your seeds to you, they will be hand selected. No pre-packaged orders here! If that wasn't enough, we offer a germination guarantee. If at least 90 percent of the seeds in your order don't germinate, we will replace your seeds. What have you got to lose there?
What are autoflowering female cannabis seeds?
Growers Choice offers seeds for several autoflowering strains. Just so you know, if a strain is autoflowering, it will always be fully feminized. That's the only kind of autoflowering plants there are in the cannabis business. What's an autoflowering plant? Well, it's sort of there in the name. Thanks to the crossbreeding of some Cannabis ruderalis into the mix, autoflowering plants will flower based on age, not off of a lighting cycle. That makes it easier to ensure flowering in your plants, which is great for beginning growers. On top of that, autoflowering strains are compact and are ready to harvest faster than other marijuana plants. Guaranteeing yourself female marijuana plants is great, but why not throw in the ease of autoflowering plants? That might be right up your alley.
Do you have indica and sativa female cannabis seeds?
Yes, indeed we do! We have seeds for all sorts of cannabis plants. That includes covering indicas and sativas. Indicas are great for relaxing and chilling out. Need help sleeping? Go with a potent, mellow indica like Critical Purple. Sativas, on the other hand, are energizing and give you a headier high. Sound enticing? Then a strain like Durban Poison may be right for you. Also, both of those strains happen to be available in the autoflowering type as well. There are plenty of other options for you, whether you are a wake-and-bake sativa lover, or like some nighttime indica before you drift off into sleep.


What are some of your most-popular female cannabis seeds?
Perhaps our most popular strain is Diesel. It's a beloved sativa-dominant hybrid, known for being energizing and then easing you into indica-related relaxation. That's kind of the best of both worlds, right? Diesel is also prized for its distinct aroma, which may not be for everybody but clearly has its fans. Why not see why Diesel is so popular? The seeds are, of course, fully feminized. There are other options, of course. We have strains that are Cannabis Cup winners, such as White Widow, Northern Lights, and Skunk #1. And, again, these are all female cannabis seeds. When you order seeds from Growers Choice, we will deliver you reliably feminized seeds, which will make sure the plants you grow are female. If you are a beginner, you could also go with one of the autoflowering strains. Make things even easier on yourself as you ease into the world of at-home marijuana growing. We want your first experience to be a pleasant one so that you come back to Growers Choice Seeds again and again for strain after strain. What are some of our autoflowering strains? We're happy to talk about them, and they run the gamut from sativas to indicas to hybrids. You definitely aren't left limited in your choice when you decide to go with an autoflowering strain. Ready to order your female cannabis seeds from Growers Choice? Remember that we offer a germination guarantee, and that includes autoflowering female cannabis seeds for strains such as:
Cotton Candy Kush
Gorilla Glue
Tangerine Dream
Hindu Skunk
UK Cheese
Buy Cannabis Seeds Now: Some Of Our Best Seller