When you are growing your own marijuana for personal use, there's a lot you have to consider. Granted, it's worth it. You get to control your plants, choose your strains, be involved in the entirety of the marijuana process, and also save money in the long run. Having a few things to concern yourself with goes with the territory, but the effort pays off. You are up to the task, right? A company like Growers Choice Seeds is here for you when it comes to delivering high-quality seeds for your at-home growing process. However, we are also here for you when it comes to delivering the information you need to be as successful at growing marijuana as possible. One aspect of marijuana you have to consider is the fact that female and male weed plants exist. What are the differences between female and male weed plants? Do some plants have pink bows while the others have blue hats? No, it's nothing as silly as that. There are differences between female and male weed plants you need to consider, at least if you want to be successful with your at-home marijuana growing.
Compare Our Cannabis Seed Strains
What are the physical differences between female and male weed plants?
In some ways, female and male weed plants adhere to the common differences between female and male human beings as well. Male plants are usually taller with thicker, sturdier stalks, while female plants have slender talks. Additionally, male plants have less leaf coverage, while leaves are abundant on female plants. Is this like how men traditionally have shorter hair than women? Sure, why not? Some of the differences in female and male weed plants are notable even within the first four weeks of a plant's growth. Male plants will be developing pollen sacs, while female plants will be developing stigmas, or "pre-flowers." This brings us to the next topic, the primary reason why marijuana growers care about the difference between male and female plants.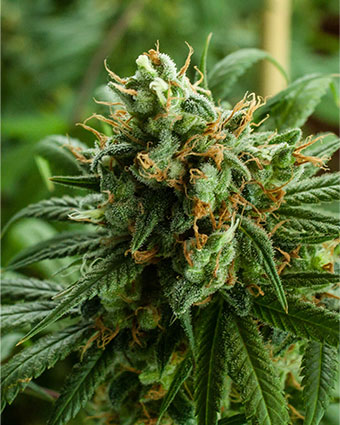 What do female and male weed plants have to do with my marijuana consumption?
Male plants grow pollen sacs. Female plants, well, they grow buds. Yes, only female marijuana plants grow buds. They are the only plants that provide us with the marijuana products we are looking for. Basically, every cannabis product you consume comes from female plants and their buds. It's those buds that are rich in THC. It's that THC that makes you feel the effects of marijuana. In essence, only female plants are going to be getting you high. There is very little THC to be found in male marijuana plants. Now, male plants do have uses. They are great for hemp, and sometimes they are used for hash concentrates as well. Also, of course, marijuana proliferation wouldn't be possible without these male plants. Those pollen sacs are what pollinate female plants, keeping the circle of marijuana life going. For big-time breeders and large-scale marijuana growing, having both female and male weed plants is vital. However, you are growing marijuana at home for your personal use. You are planting a seed to grow a plant that you can, in turn, harvest buds from. On the level of at-home marijuana growth, male plants often feel more like flies in the ointment. Most growers of your ilk, presuming you are a personal marijuana grower, are only looking for female plants. Pollination and breeding and all that? It's not what you are in the market for, by and large.
Do I need to be vigilant in looking out for female and male weed plants?
Not if you buy your seeds from Growers Choice Seeds! Like any good cannabis seed bank, we are doing more than storing and selling cannabis seeds. We also feminize our cannabis seeds, and now we can sell fully-feminized cannabis seeds to people all over the globe. What does it mean for your cannabis seeds to be fully feminized? That means it is guaranteed to grow you a female marijuana plant. Yes, we can make sure all your seeds produce female weed plants, which means all of your plants will provide you with the THC-rich buds you are looking for. You don't need to fret about the difference between female and male weed plants. With our seeds, all you will have is female weed plants! You can enjoy THC and get high from every plant that you grow from Growers Choice's seeds.
If I don't have to worry about the difference between female and male weed plants, what else can I get from Growers Choice Seeds?
Growers Choice can provide you with fully-feminized seeds that give you female plants. There's more you can get from Growers Choice, though. Our seeds are lab-tested and hand selected for quality. That means your seeds aren't just feminized, but also of the highest quality possible. Beyond that, we also provide a germination guarantee on every order. What does that mean? It means that at least 90 percent of the seeds in your order will germinate, which is to say the seeds will sprout. If that isn't the case, we will replace the seeds. And, of course, after your seeds germinate they will grow into female plants. That means you can enjoy high-quality marijuana from a variety of strains. Use marijuana for your enjoyment, or to handle issues like stress, insomnia, chronic pain, or more. With male plants, you can't do that. Female and male weed plants are necessary for the grand scheme of things, but female and male weed plants are not necessary for your small-scale, at-home marijuana growing. Go with Growers Choice Seeds and get fully-feminized seeds each and every time. We have sativas, indicas, hybrids, you name it! We also have autoflowering seeds, which makes your growing experience even easier. Growers Choice is here to simplify growing marijuana at home. Why not order fully-feminized seeds and grow some THC-rich buds today? We have top strains including:
White Widow
Gorilla Glue
Tangerine Dream
Hindu Kush
Northern Lights


Buy Cannabis Seeds Now: Some Of Our Best Seller