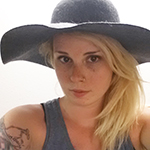 We're so excited to feature guest blogger Katie King on the blog today! This freelance writer from Oregon has a real way with words!
Picture it: New York City's Greenwich Village, 1967. It's the summer of love, and everyone is out in their best denim and tie dye. Your friend Samantha, who goes by Daisy now, sparks up a joint and passes it to you. Someone plays a folk song on a guitar nearby. Your trendy loft apartment only costs $200 a month. Life is good.
While this idyllic image of the mid sixties hippie revolution may not be entirely accurate, the fact remains that post WWII, counterculture movements in New York City paved the way for marijuana acceptance and normalization in mainstream American culture.
New York Cannabis Laws
Right now, only medical cannabis is available in New York; recreational use is still prohibited at this time. Although marijuana possession was decriminalized in 1977, New York City still has one of the highest arrest rates for marijuana-related charges in the country. Possession of under 25 grams is considered a violation and will only get you a $100 fine; however, public use of cannabis is a misdemeanor that comes with a $250 fine and up to 90 days in jail. Those seem like some pretty harsh cannabis laws, considering the multitude of actual crimes committed in NY on any given day.
That's all about to change, though. As more states on the Eastern Seaboard move to legalize recreational marijuana (Massachusetts, Vermont, and Maine have already legalized it, and New Jersey will be pushing legislature through later this year), New York is beginning to feel the pressure. Governor Andrew Cuomo has taken a pretty hard line against marijuana throughout his career, but he's up for re-election this fall; "Sex and the City" star Cynthia Nixon is officially running against him, and has made legalizing recreational marijuana one of the pillars of her platform.
Can You Buy Cannabis in New York?
Just because cannabis is prohibited doesn't mean it's impossible to get, especially in a place like New York, which has widely accepted cannabis use on a cultural level. If you were to buy cannabis in New York, you could expect to pay around $10 for a gram, or about $50 for an eighth. That's not bad, compared to the cost of living in the city. If you've seen HBO's series High Maintenance, you already know that bicycle delivery services exist in the city, but if you can't get a contact, you can always stroll through the park and, as Toucan Sam says, "Just follow your nose!"
Medical Marijuana in New York
In 2014, New York State finally stepped up and passed the Compassionate Care Act, granting medical marijuana access to patients with qualifying conditions; but the program was highly restrictive. Three years later, changes were made to expand New York's medical marijuana program, allowing access for an increased number of conditions. As of 2018, the list of qualifying conditions for a medical cannabis card in New York are
Chronic Pain
PTSD
ALS
Spinal Cord Injury
Parkinson's
Cancer
Epilepsy
MS
IBD
HIV/ AIDS
Huntington's Disease
In New York, medical patients can only obtain their legal cannabis products from a state-licensed dispensary. Dispensaries are vertically integrated: they grow, process, and sell their own medical marijuana products. Patients are not allowed to buy raw flower. Instead, dispensaries offer tinctures, tonics, and edibles. Currently, there are over 46,000 medical marijuana patients in the state of New York, but only two dispensaries in Manhattan, as well as one in Queens and one in the Bronx, and a few more upstate.
There and Back Again: The Road to Cannabis Legalization
Up until the early 1900s, cannabis was widely used by the general American public as a natural medication for pain, anxiety, and other issues. At the turn of the century that began to change; rates of opium addiction were sky-high, prompting the U.S. government to crack down on all medical substances. In 1914, New York restricted cannabis access to a prescription-only basis. By 1927, all cannabis use was prohibited in the state.
Prohibition didn't stop New York residents from growing and enjoying the green stuff, though. Through the 1950s, marijuana plants grew freely in backyards and vacant lots, sometimes growing as tall as Christmas trees. In 1951, the city's officials initiated an aggressive eradication effort; officers seized and destroyed over 41,000 pounds of cannabis plants from around the city. Cannabis culture had officially been forced under ground.
Then in the 1970s, the sky began to clear for cannabis consumers in New York. The Oliveri Statute was a program started to fund research into the benefits and effects of medical marijuana. Unfortunately, bureaucracy got in the way, and the program went unfunded. In 1977, marijuana possession and use were decriminalized, although arrest rates remained high; NYC was deemed the "Pot arrest capital of America" in the 90s, thanks to stop-and-frisk policies.
Right now, the future of cannabis in the Big Apple is unclear. While it seems likely New York will join other New England states by legalizing recreational marijuana use in the near future, no legislature is currently being reviewed on this topic.
The Counterculture and Cannabis in New York City
When Reefer Madness first took off in the 1920s and 30s, anti-marijuana propaganda attempted to use people of color to scare the public away from using cannabis. Marijuana was associated with black culture, especially jazz music. This scare tactic backfired in the void left after WWII; young adults coming of age in the 1940s and 1950s felt disenfranchised and were drawn to the counterculture as they sought connection and existential meaning within the world. These young artists, poets, and musicians were known as the Beat Generation, and they would help create the rich American cannabis counterculture and initiate its acceptance in mainstream America.
Cannabis and Jazz in New York
In 1944, Jack Kerouac, Allen Ginsberg, and William Burroughs met each other for the first time in New York City. Soon joined by Neal Cassady and Carl Solomon, this group of writers, poets, and activists settled in Greenwich Village, where they preached the values of free love and sexual liberation. The Beat Poets often performed poetry readings at local cafes and in Washington Square Park. Their uniquely American, esoteric, and existential style was gaining attention across the country.
The Beat Generation were the first to exhibit an intellectual interest in drug use, with cannabis being widely used among them. Cannabis was their link to the African American jazz culture in New York. The Beat poets idolized jazz and jazz musicians, often hanging out in jazz clubs and smoking with the patrons. This of course shocked and aggravated conservative Americans, but their outrage only made their kids more curious. Marijuana became known as a drug that would boost your creativity, make you a more productive or prolific artist, and give you greater insight into the world. The truth was out; Reefer Madness had been a lie. The counterculture grew and New York became a beacon of cannabis acceptance culturally, at least, if not legally.
Cannabis Culture Grows in New York
In the 1960s, Greenwich Village became the hub of the hippie movement and bohemian culture in NYC. Neal Cassady and Allen Ginsberg stayed in New York and became part of the growing youth movement; they were joined by California wild man Ken Kesey, known for his experimentation with psychedelic drugs. Musicians like Bob Dylan and John Lennon took up residence in New York City, along with modern artists like Andy Warhol. Cannabis became synonymous with hippie culture; it was integral to the experiences and artistic style of the Hippie Generation, fueling their artistic endeavors and social interactions, as well as their political views and concerns. In 1964, Ginsberg started the first marijuana activist group, known as LeMar, and in 1965 led one of the first pro-marijuana rallies outside the Women's House of Detention in Greenwich Village. Well into the 1970s, the hippies continued the work of the Beat poets in promoting free love, intellectualism, and self-expression while using and advocating for the acceptance of cannabis in the mainstream culture.
Moving Towards a Greener Future in New York
Over the past century, while New Yorkers themselves have generally taken a pretty liberal view of marijuana, the city's government has not. It's been a long, strange trip for cannabis in New York; from common household medication to illicit substance to symbol of the counterculture, all in less than 50 years. Once again, public perceptions of marijuana are changing. Reefer Madness is finally fading into the background as we approach a brave new world of legal weed. Widespread acceptance of medical marijuana has helped pave the way for recreational legalization, and it's hard to deny the economic benefits experienced by west coast states who began passing legalization laws more than five years ago. New Yorkers should remain hopeful that their state will soon join their New England neighbors in making marijuana legal for all adults.
---