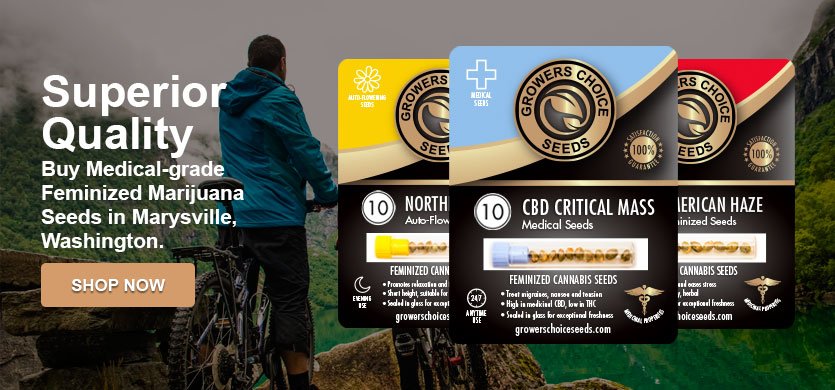 Order Marysville Marijuana Seeds Online
When you order Marysville marijuana seeds from Growers Choice, you're getting more than just premium, feminized products. We stand behind our lab-tested seeds 100%, which means you benefit from our 90% germination guarantee with every order. Sure, you need to follow our germination guide to qualify, but it's the best method we've come across, and it's easy and prop-free enough for any grower to master.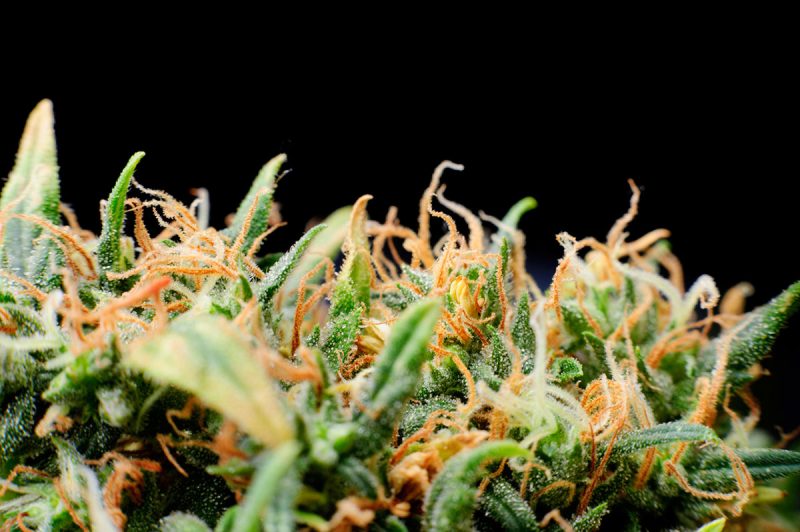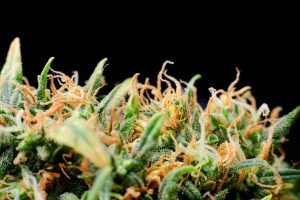 What are the marijuana laws in Washington?
In Washington, adults over the age of majority are allowed to carry on their person up to one ounce of prepared marijuana at any given time, and have the right to consume this marijuana in their residence. That means Marysville residents can enjoy the many healing and recreational benefits of this therapeutic plant pretty much whenever they want!
What is not yet allowed under Washington law, is just anyone growing their own weed. You need to be registered as a medical marijuana patient before you can take that leap. But even if you aren't, that doesn't mean you can't get ready for the day the laws inevitably change, right? Order your marijuana seeds from Growers Choice — they're adult novelty products, and seeds have no therapeutic or psychoactive effects — and keep them stored safe until that day comes. It's not hard to store marijuana seeds and they can last for up to three years!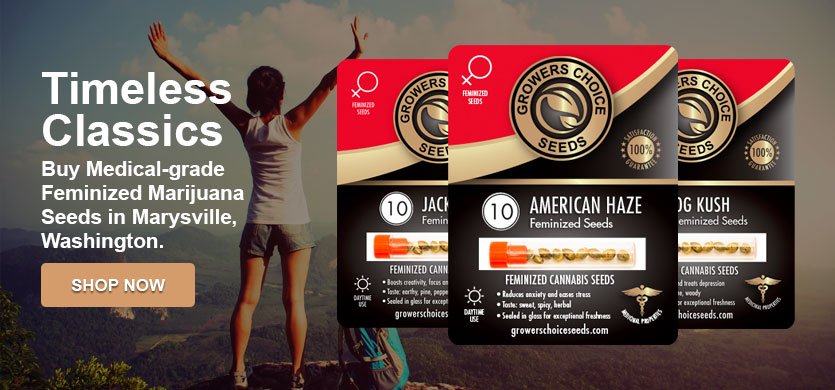 What is Durban Poison marijuana?
Durban Poison is a strong, popular strain of marijuana that comes from African sativa plants. It is energizing and therapeutic, and it's definitely not for bedtime. Boasting a moderate 16% or so of THC, this strain will leave you focused and happy, and is a great option for relieving stress and symptoms of depression and managing pain and fatigue.
If you're a medical patient who wants to try your hand at growing Durban Poison, you should know it's a fairly easy strain to germinate and cultivate, and should give you a slightly above-average yield. It gets pretty tall but it doesn't actually take as long as a lot of sativas to flower. You're looking at approximately 8 or 9 weeks after the vegetation stage before this baby is ready for harvest.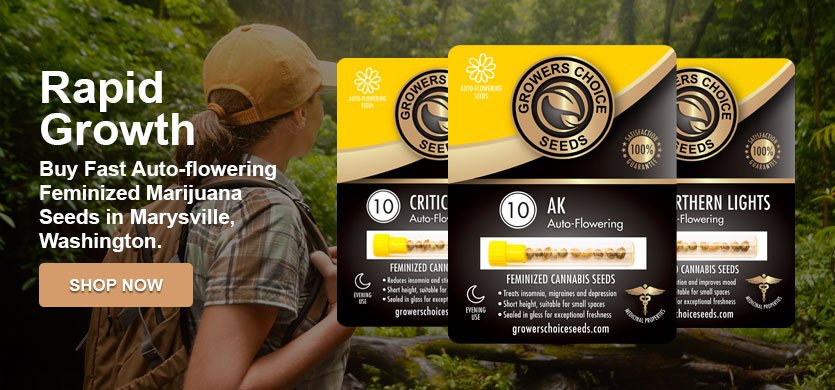 Is it legal to order marijuana seeds in the US?
You can legally order your Maryville marijuana seeds from Growers Choice, and have them shipped directly to your door. Our knowledgeable staff hand-package your order — which is super easy to place by simply choosing your strain, selecting the quantity you want, and checking out — and your fresh, lab-tested seeds will arrive at your door in days. We're located in and ship from California, so you know it won't be a very long wait, and you don't have to sweat about customs or the mail losing your seeds as they travel from across the world.  What are you waiting for? Order today!
Most Popular Cannabis Seeds in Marysville