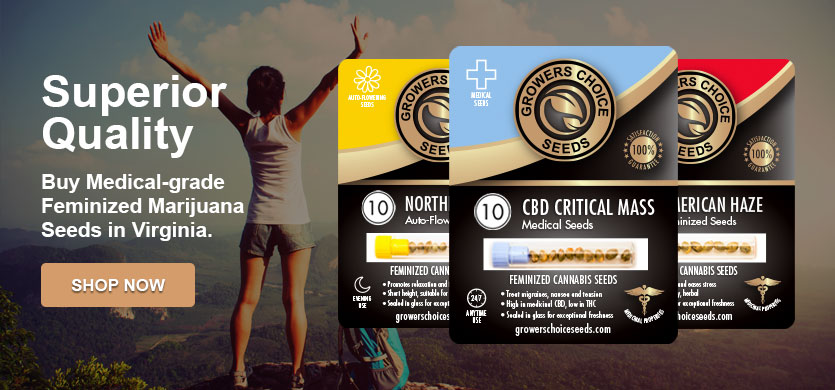 In Virginia, marijuana seeds are always available from Growers Choice. As a collector, you'll know the best when you see it!
Is Marijuana legal in Virginia?
Virginia is a bit behind most of the other states in the country with their extremely strict marijuana laws. The healing plant is not decriminalized, and only medical CBD is legal for use, by registered patients with specific medical conditions.
Virginia collectors of marijuana seeds can still find the strains they need at Growers Choice. We sell our seeds as adult novelty souvenirs, so anyone over the age of 21 can legally purchase our marijuana seeds. We do not recommend germination or planting of marijuana seeds – please enquire into your regional laws.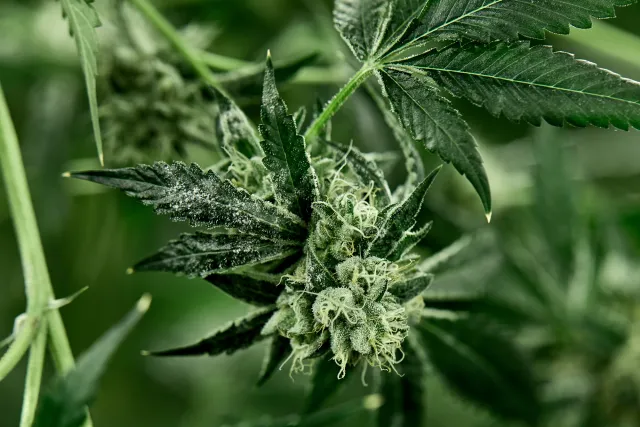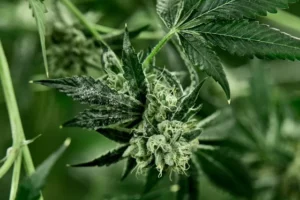 Updates on Virginia's Medical Marijuana Law
A tiny improvement in Virginia's dismal medical marijuana law took place in the spring of 2018. The allowance of CBD oil was expanded microscopically to include THC-A oil, and a minimum of 15% CBD and 5% THC (which is actually quite a lot higher than the oft-seen 0.3%). Patients must carry their doctor's recommendation with them, but the Marijuana Policy Project points out this doesn't mean a patient can't be stopped, searched, or arrested – it simply means they have a defense on their day in court. Here's hoping we see more significant improvements to these laws in the near future, for the sake of all Virginians who could benefit from this all-natural treatment.
Compare Our Cannabis Seed Strains
Get Virginia pot seeds
Here at Growers Choice, we have an excellent selection of pot seeds in three specialized varieties:
Every single cannabis seed has been feminized, so if you do plant them one day, you will not need to worry about finding and weeding out the male plants – every seed will grow into a harvestable female plant bursting with medicinal flowers.
After you've placed your order, our expert team will package your marijuana seeds in a medical-grade glass vial and ship your order straight to your door. Your delivery address and payment information are kept confidential and stored on a secure server, and your credit card information is always erased once your payment has been confirmed. We further respect your privacy by delivering all orders in discreet boxes or envelopes.
Learn more: Top 5 Cannabis Seeds in Carson City in 2023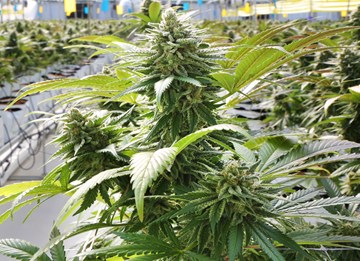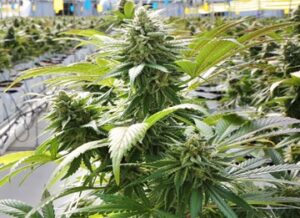 What is the Vegetation Stage?
Marijuana plants go through various stages as they grow. Germination can be considered the first stage, wherein the seeds that were dormant are reawakened through moisture, warmth, and darkness. Once the seeds have sprouted their first root, they are planted, and when that first little shoot bursts through the planting medium, the seedling phase has begun (though in some of our literature we consider this the start of the vegetative stage). After developing a couple of layers of leaves – some say when the first serrated leaves appear – the seedling passes officially into the vegetative stage. It is during this stage the plant puts on the bulk it needs to support flowering during the – you guessed it – a flowering stage that comes next. A good amount of nutrients and lots of care are needed during the vegetative stage to ensure the plant will be able to carry the weight of those healing, medicinal buds.
Why is marijuana prohibited?
The legal battle with marijuana began back in the 30s when that term was coined. Marijuana, which had until then been used as a medicinal treatment for many conditions, was demonized by industries who feared the competition hemp posed with plastics and other such products. The cannabis plant was also used as a way to paint Black Americans and Mexican immigrants as dangerous – the term "reefer madness" was presented on many posters depicting the frightening and violent things people would do when using marijuana.
Of course, all the information was hugely exaggerated and often completely fabricated, but that didn't keep cannabis from becoming substance-non-grata for decades. Only now is the herb beginning to slowly reclaim some of its old respect, both for the promise of industrial hemp and for medical marijuana.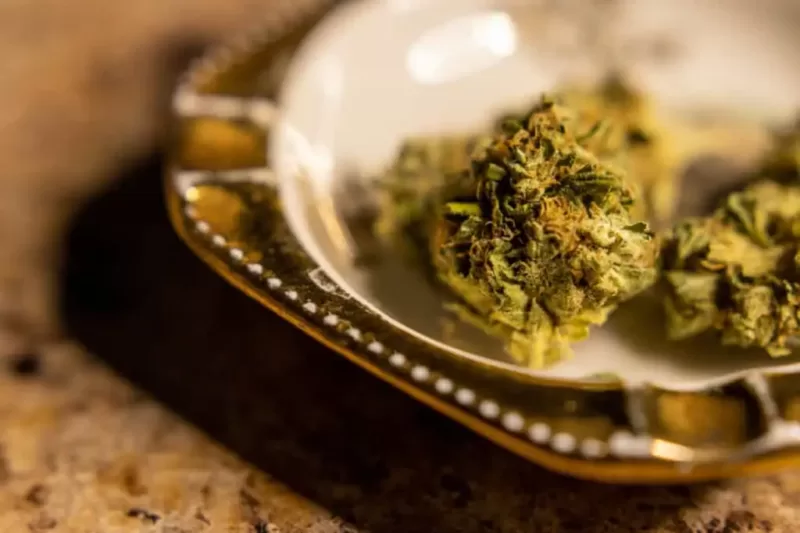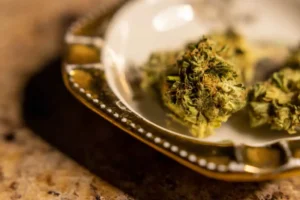 Marijuana Seeds for Health
Though Virginia's marijuana laws still leave something to be desired, it's never too soon to start learning more about this amazing plant. Marijuana has amassed a lengthy list of medical benefits, and even as some naysayers continue to focus on the negative past of the plant (based largely on falsehoods started in the 1930s), more and more scientists and doctors – not to mention patients – are touting the potential. From chronic pain to headaches, arthritis to psoriasis, the way the cannabinoids in marijuana interact with our bodies is fascinating and is beginning to instill hope in those who have lost it after countless failed treatments.
How to store marijuana seeds
If you are buying marijuana seeds in Virginia, you may be planning to store your seeds until you are legally permitted to plant them. In this case, it is important to understand proper procedures for preserving the viability of your marijuana seeds.
Properly stored, marijuana seeds can remain dormant and viable for up to 3 years. Storing your seeds in a cool, dry location is the best way to ensure their longevity. You can leave your marijuana seeds in the glass vial they came in, or place them in a little paper envelope (envelopes, especially for seeds, are sold at some gardening centers). A corner of a cupboard is likely suitable if you're storing your seeds for a season or so, but ideally, you will find a location that does not undergo much fluctuation of temperature or humidity. As long as your seeds are completely dry, they can be stored in the freezer, which accommodates most of these factors.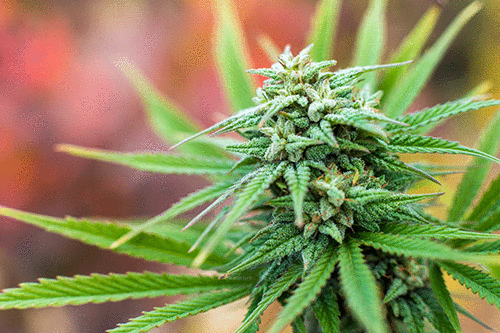 Virginia marijuana seed collectors go with Growers Choice:
I love the selection! I've been going over all the product descriptions and enjoying learning about this awesome product. Placed an order to gift a friend in a legal state, and I can't wait to hear how their grow goes!
Growers Choice marijuana seeds in Virginia:
… and more!