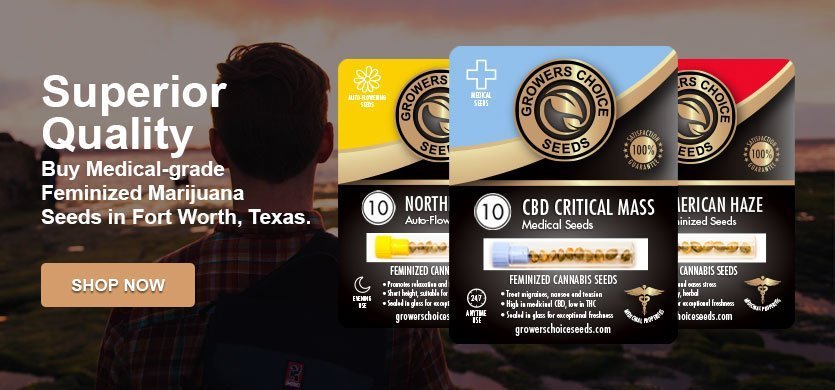 Buy Fort Worth Marijuana Seeds Online
The best place to buy Fort Worth marijuana seeds is Growers Choice! Don't believe us? Just check out these stats:
Dozens of premium marijuana seed strains to choose from
Guaranteed fresh, hand-selected, and backed by our 90% germination guarantee
Easy to place your order
Easy to choose your seeds, because our detailed product descriptions tell you everything you need to know
Quick, discreet shipping right to your door within days of placing your order!
What do you think? Doesn't this sound like the perfect place to get your marijuana seed? No more worrying about whether or not local stores carry what you're looking for. Just hop online and browse our selection, place your order, and checkout. All this can take you less than five minutes! Find all of your favorite strains in our online inventory, including popular kush, diesel, and critical cannabis seeds, as well as specialty seeds such as high content CBD. CBD cannabis seeds are often preferred by medical marijuana patients for their relaxing qualities and pain-relieving properties.
Now, before we get started, let's go over the cannabis rules in Forth Worth, Texas. This is an important component when it comes to growing cannabis. As of 2020, Texas has not legalized cannabis, not even for medical purposes. They may be one loophole, however, for patients who suffer from seizures and epilepsy. These patients may have access to low-THC, high-CBD products through a doctor's prescription or recommendation. That being said, you do not need a medical qualifying condition to purchase cannabis seeds. Cannabis seeds are actually legal in all 50 states as they do not contain the same chemicals as cannabis plants.
It's legal to purchase cannabis seeds in Forth Worth
It's legal to have cannabis seeds delivered to your home in Fort Worth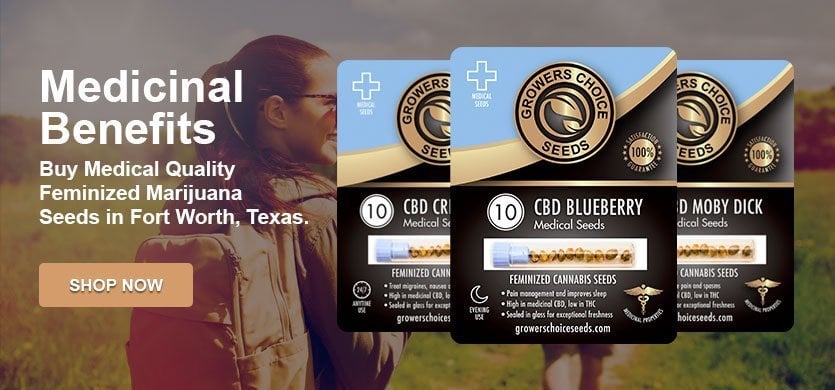 Which Strains Have High CBD?
Buy High-CBD Cannabis Seeds in 2021
In recent years, CBD has grown considerably in popularity, and CBD products can now be found online and in stores in states where cannabis has been partially or fully legalized. Growers Choice Seeds carries a large selection of high quality, high content CBD cannabis seeds. Our favorite high content CBD seeds in stock now are
Get your high content CBD cannabis seeds delivered quickly when you order online from Growers Choice Seeds today. Delivery is fast and discreet, with tracking provided on every order.
The Best Cannabis Strains for Pain
If you are looking for pain relief, an indica-dominant or balanced hybrid strain should be at the top of your list. Strains like Critical Purple and AK Autoflowering, can offer a relaxed, happy high that leaves the users feeling uplifted, while also addressing the issue of pain. We source the finest Texas cannabis seeds at Growers Choice. Cannabis works much in the same way as pharmaceutical painkillers, in that it does not necessarily heal the pain in question, but rather prevents the nerve endings in that part of the body from sending pain signals to the brain – or prevents the brain from receiving them. By distracting the binding sites along which these signals would normally be delivered, cannabis compounds called cannabinoids effectively stop the body from experiencing pain. This nifty trick – carried out in a much more natural and safe manner than many pharmaceuticals – can help patients experiencing chronic or acute pain sleep more deeply, carry out essential daily tasks, and just generally feel better. As mentioned above, cannabis can also improve mood on a fundamental level, leaving those feeling depression or anxiety about their illness is a state of ease.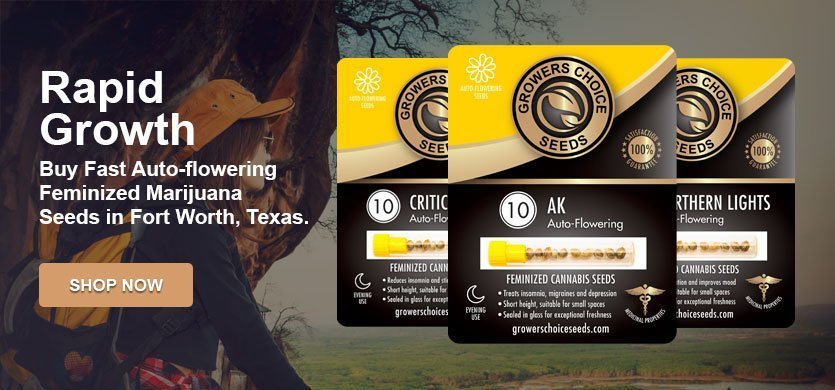 Storing your marijuana seeds
Unfortunately, it's not yet legal to grow your own marijuana in Arlington, Texas. We're hoping the laws catch up with much of the rest of the country but until then, fear not! Properly stored, marijuana seeds can last for years without becoming any less viable.
All you need to do is make sure your seeds are stored in a dark, cool location that doesn't see much temperature fluctuation. If you've received your seeds in a medical-grade glass vial from Growers Choice, you can even leave them in here, and just place the vial in a dark envelope or container like a film canister.
Seeds can be stored in the fridge or freezer, but it's best if it's one you aren't opening every day to pull out food — this can make the temperature change enough to disrupt your seeds. A closet in a cool part of your house can also serve this purpose! Either way, you don't need to worry about buying your marijuana seeds too early — they'll last!
Keep your seeds away from direct sunlight
Keep your seeds away from moisture and humidity
Keep flower in an air-tight, vacuum-seal container
Be advised that cannabis seeds can spoil and "go bad" after a long enough time. If you plan on storing your seeds for an extended period of time, we recommend keeping them somewhere cool, dry, and dark. You can store seeds in your bedside table or in a kitchen drawer. Also, if you have kids or pets running around, be sure to keep your seeds out of arm's reach. You never know when a dog can pick up the scent of seeds and mistake them for a snack—and we all know that kids are notorious for picking small things off the floor. Cannabis seeds aren't neccessarily harmful when eaten, but it's best to avoid the situation altogether. For adults, however, raw cannabis can make a healthy snack.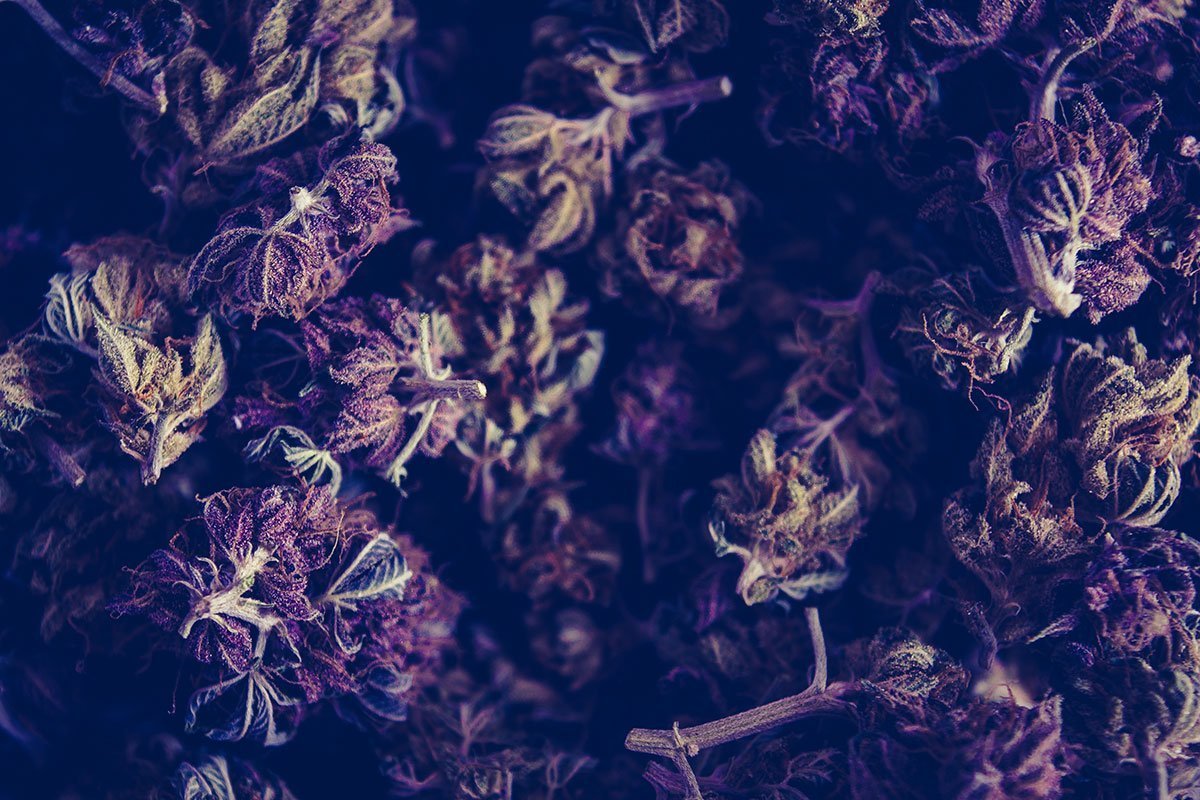 What are the medicinal benefits of marijuana?
In addition to lousy cultivation laws, Texas doesn't exactly have the best medical cannabis laws either, but they're better than a few other states! First of all, medical treatment in Texas is limited to CBD products with less than 0.5 percent THC (and no more than 10% non-psychoactive CBD). As of 2019, people with the following conditions may qualify for medical marijuana patient registration:
Autism
ALS
Multiple Sclerosis
Terminal Cancer
Epilepsy (the only accepted condition until recently)
But in addition to these diseases, which are certainly life-changing and for which cannabis has over and over been proven to be effective, people seek marijuana treatment for many other conditions. Headaches and migraines can be eased with marijuana, as can chronic pain and even some symptoms of depression and anxiety. It seems as though every day, a new study is released adding to the list of cannabis' benefits.
It's a great time to order your Fort Worth marijuana seeds
Cannabis is still in the early stages of what is sure to be an amazing medicinal adventure! Please don't hesitate to reach out to your doctor to inquire about a medical marijuana prescription. You never know what good cannabis can do for you until you try. The research is there. The statistics are there. The testimonials are there. Marijuana has helped thousands, if not millions of people with their medical conditions. The secret is finding the right strain that works for your needs.
Shop Marijuana Seeds Now