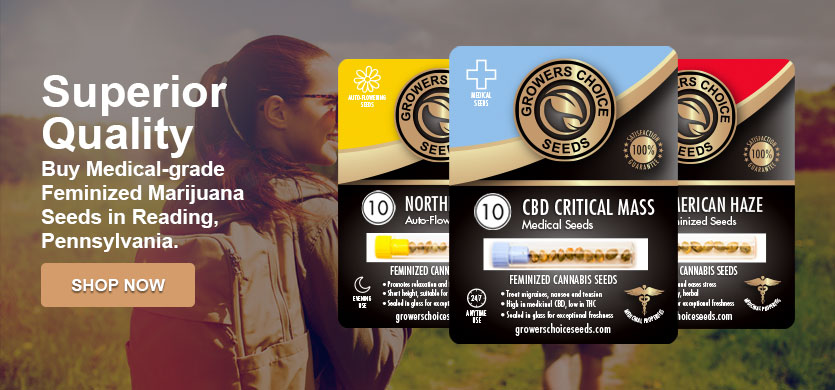 Marijuana seeds for sale in Reading
For people in Reading participating in the medical marijuana program (which is slated to be put into action at the beginning of 2018), the list of qualifying conditions is relatively comprehensive, and includes but is not limited to:
Autism
Huntington's disease
Inflammatory bowel disease
Post-traumatic stress disorder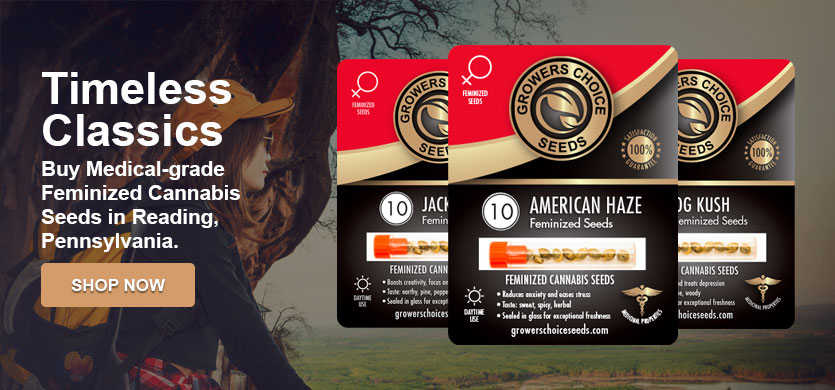 Is marijuana legal to use in Reading?
In 2016, the Governor of Pennsylvania Tom Wolf legalized medical cannabis, and in his speech said, "I'm proud to sign this bill that will provide long overdue medical relief to patients and families who could benefit from this treatment." While 2 million residents of the state are set to benefit from access to pot, the law has yet to be enacted.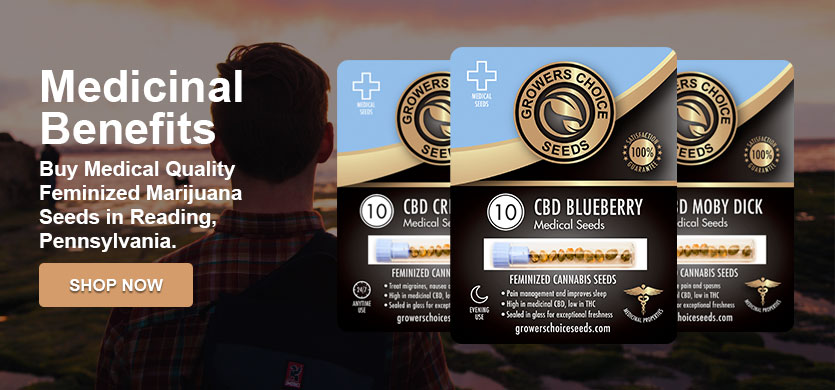 Buy marijuana seeds in Reading
Proponents of marijuana in the state continue to work on shifting the government's view of marijuana to a more positive one, and while you wait, you can stock on the best Reading marijuana seeds available by shopping with Growers Choice Cannabis Seeds online. We carry a selection of potent and popular strains like our medical CBD Critical Mass or the powerful Diesel. Shopping is a breeze, and shipping just as easy. Within days of your purchase, your little pot seeds will be delivered to your doorstep.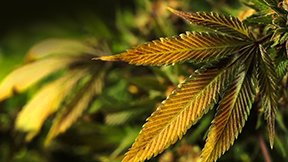 Is there a difference between recreational and medical marijuana?
There's an interesting truth about marijuana that some people might not want you to know: all marijuana has therapeutic benefits, but not all marijuana will get you high. Crazy, right? The one thing that differentiates "medical" marijuana from all else is the presence of tetrahydrocannabinol, or THC, a chemical that causes a euphoric bliss, among other effects. Since the early 1900s, marijuana has been deemed an addictive substance, though little evidence supports this claim. Marijuana seed strains that are higher in cannabidiol (CBD) are most often prescribed as a form of alternative therapy for a much wider range of patients because they have many clinical applications and no uncomfortable side effects. Find the best Reading marijuana seed strains high in both THC and CBD online when you shop with Growers Choice Cannabis Seeds.
What can I use medical marijuana seeds for?
For decades, practitioners have been prescribing marijuana to patients with chronic pain, depression, and more. The naturally occurring cannabinoids readily react with the bodies own endocannabinoid system (which was named after the potent plant that lead to its discovery), and modern research has only begun to scratch the surface of how effective marijuana can be.
Compare Our Cannabis Seed Strains
What have customers in Reading got to say about us?
Always a pleasure doing business with Growers Choice. I know I'll get what I want, and it will show up on time, no problems. The packaging is very simple, and the seeds always fresh. The product speaks for itself. I've only ever had success with my plants, even when I've stored the seeds for a little while.
Most Popular Marijuana Seeds in Surprise