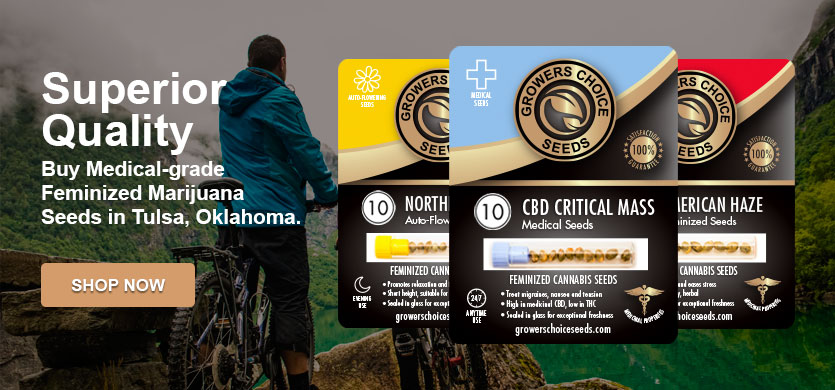 Are marijuana seeds legal in Tulsa?
Because non-germinated marijuana seeds are considered collectors items, purchasing and possessing pot seeds shouldn't come with any penalties attached. That said, marijuana use in Tulsa, as across Oklahoma, is for patients with a qualifying medical condition.
Legally speaking, Oklahoma passed their state medical marijuana law back in 2015 with a specific focus on CBD-rich strains that are non-psychoactive. The list was expanded again in 2016, but a new legislation, voter-supported State Question 788, the Medical Marijuana Legalization Initiative, which would support the legalization of licensed cultivation, use, and possession for medical purposes, is set to be on the ballot as an initiated state statute on November 6, 2018.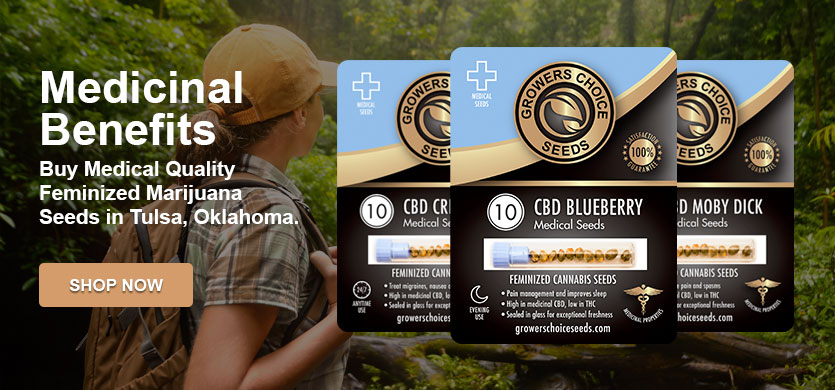 Marijuana seeds for sale in Tulsa
While growing is still up for debate, you can still stock up on the best quality Tulsa marijuana seeds if you shop online with Growers Choice Cannabis Seeds. Strains like White Widow and Critical Purple do well when stored over longer periods of time. The best way to keep seeds over any extended period of time is to ensure they are…
Stored in a cool place with a constant temperature
Stored in a dark place with as little chance of disturbance as possible
Stored in a dry environment, as moisture will start the germination process before you're ready
Check out some more tips on preserving your pot seeds for up to two years (and even longer) in our detailed article on the subject.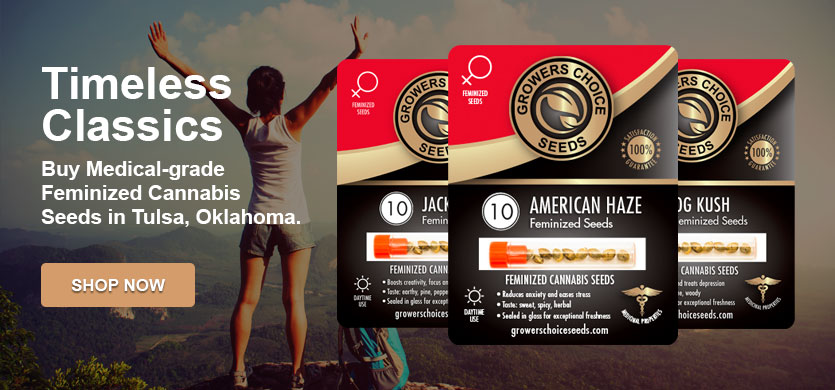 What is CBD marijuana oil?
Although it's often assumed that in order to take advantage of the benefits of marijuana one must be a smoker, but there are many ways to ingest this potent plant without having to consume the harmful chemicals in smoke. Concentrated CBD oils are just one of the unique marijuana-infused products on the market today. CBD marijuana oil is derived from the marijuana plant, most often the form known as hemp, as it tends to have higher percentages of CBD with little to no THC (the psychoactive cannabinoid). For the best CBD-rich Tulsa marijuana seeds around, make sure to check out Growers Choice Cannabis Seeds.
Compare Our Cannabis Seed Strains
How do you use marijuana oils?
Cannabidiol (CBD) is one of over 85 naturally occurring cannabinoids found in marijuana plants. Unlike its sibling THC, it doesn't cause any psychoactive effects, making it an ideal therapeutic alternative. You can get marijuana oils in either pill form, which you would take orally, and are excellent for treating things like anxiety, insomnia, neuropathic pain and even convulsions. Alternatively, you can apply concentrated oils to the skin for treating conditions like eczema.
Great gardens start with Growers Choice seeds
When I was living in a state where growing marijuana was cool, I got the best yield by far from my Growers Choice pot seeds. We moved a few months ago and we're patiently waiting for laws to change. I've been stocking up on seeds when the sales roll around, GC always delivers on time and you'd never know what was in the package if you didn't have inside information. Great company.
Shop Popular Marijuana Seeds