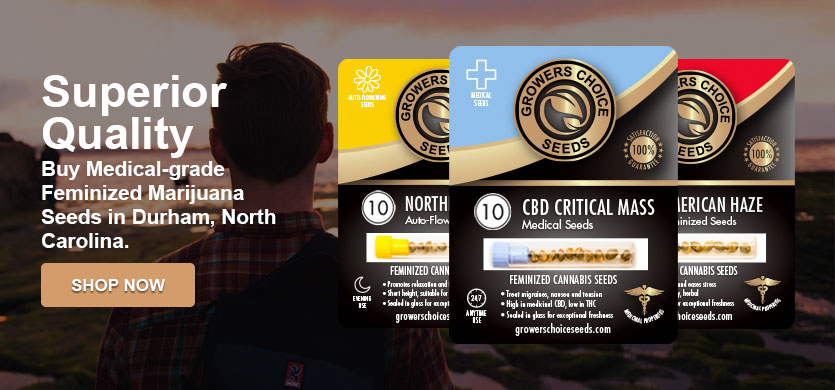 Marijuana seeds for sale in Durham
Support for marijuana use has never been greater than it is today, so it's only a matter of time before North Carolina laws budge on their decidedly strict stance. In the meantime, because weed seeds are considered a collector's item, proponents should feel free to purchase their favorite strains, like Northern Lights and Amnesia, when they shop online with Growers Choice Cannabis Seeds. We deliver your carefully packaged Durham marijuana seeds anywhere in North America, including to your Durham home address.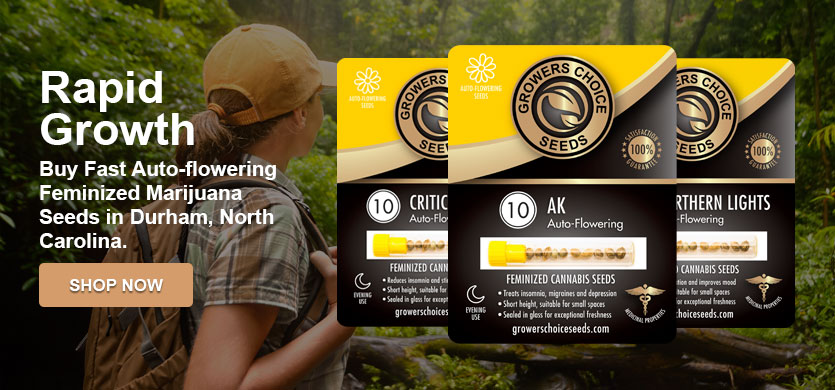 Buy marijuana seeds in Durham
Researchers have spent a lot of time investigating the effects of CBD in the body. In discovering that cannabinoids bind rather well with receptors throughout the brain and body, CBD does not have an effect on the same docking sites as THC, mainly CB1 and CB2, which affect movement, coordination, pain and sensory perception, memory, and reduce inflammation. CBD activates several non-cannabinoid receptors and ion channels, and acts through various receptor-independent channels, which can delay the uptake of endogenous neurotransmitters by enhancing or inhibiting the binding of other protein receptors, like serotonin receptors or vanilloid receptors, which produce therapeutic effects by mediating pain perception, inflammation, and body temperature.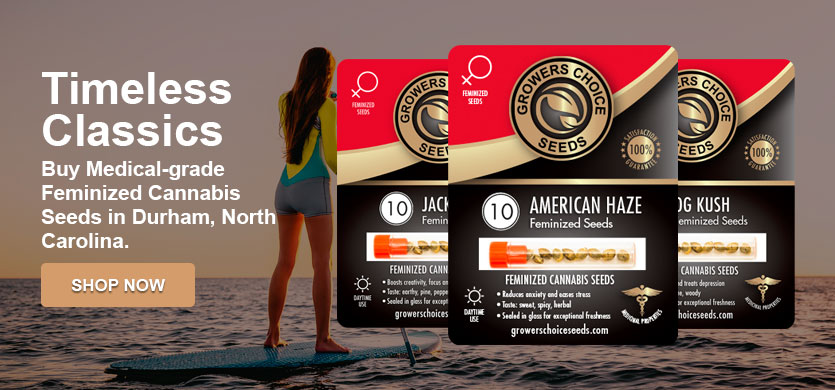 Compare Our Cannabis Seed Strains
What happens when marijuana enters the body?
Depending on how you ingest it, you can feel the effects of marijuana within seconds or hours. Our bodies naturally produce chemicals called endocannabinoids (named for the plant that led to their discovery), and the chemicals found in marijuana – cannabinoids – act remarkably similarly to these, which is why they work so effectively in the body. Cannabinoids interact with receptors that are located throughout the brain and body, specifically the CB1 and CB2 receptors, and can also be absorbed through fatty tissues, to effect change in normal function of mood, hunger, sleepiness, memory, and more.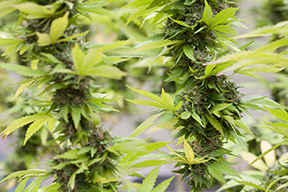 Does CBD marijuana act differently than THC?
Though both cannabinoids, this is where the chemicals CBD and THC differ. First, while THC has medical potential, it also has a powerful psychoactive effect that makes it unsuitable for a wide range of patients. CBD on the other hand, has very few uncomfortable side effects, but has been proven quite useful across a wide range of medical conditions, diseases, and symptoms.
What are customers in Durham saying about our Growers Choice seeds?
Great shop, with lots of great advice and someone on hand to answer any questions you need, whether its via online chat or email. I appreciate how open and helpful they are. This was my first order and I had a lot of questions but they answered everything and they were really friendly. Shipping was a breeze, the seeds showed up in a few days and if I wasn't expecting them I wouldn't have known! Thanks for the great work, GC!
Most Popular Marijuana Seeds in Surprise