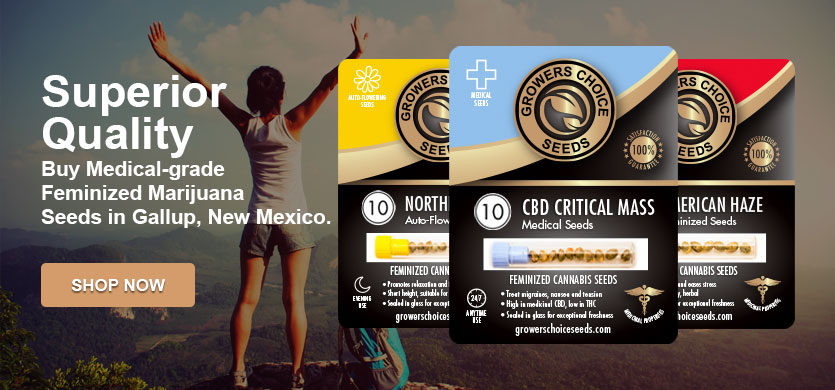 Buy High-Quality Gallup Marijuana Seeds from Grower's Choice Seeds
You can now legally order high-quality Gallup marijuana seeds online from Grower's Choice Seeds! Choose from tons of varieties of traditional fully-feminized, high-CBD medical, and auto-flowering seeds. Just a few clicks through our online store and premium seeds will be on their way directly to your home. We understand that your privacy is important, so we ship your legal marijuana seeds straight to your door with discreeting packaging. No need to waste time and money on questionable seeds when you can get great seeds sent to you at home. Grower's Choice Seeds is working hard to become your trusted and reliable online source for high-quality marijuana seeds. Start your delivery today!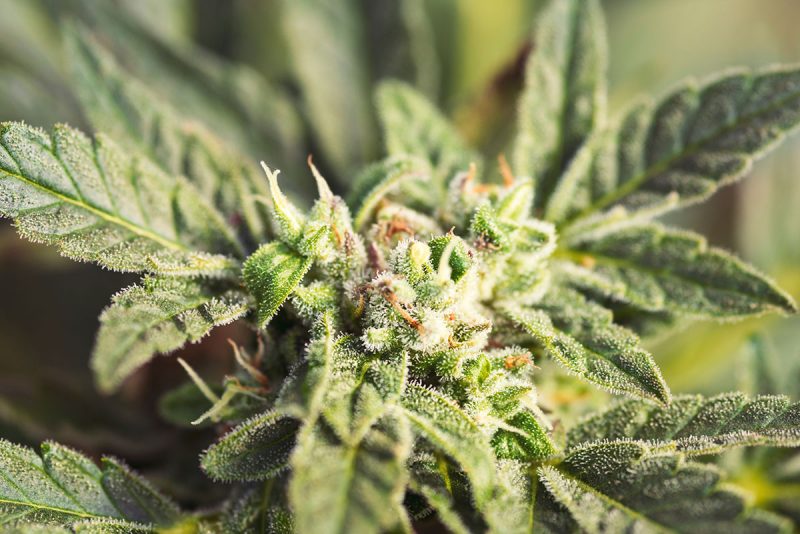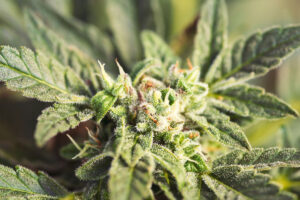 Marijuana Laws in New Mexico
You have probably heard about all the changes happening with marijuana laws around the country and within the state of New Mexico. Currently, New Mexico has decriminalized pot and allows access for medical patients. Unfortunately, it is not yet legal to grow seeds that you purchase, but there are certainly rumblings of full legalization happening in the next year. Remember, it is 100% legal to buy and collect ungerminated marijuana seeds from Grower's Choice Seeds. Just remember to leave your seeds unplanted and you are following the law. The good news is that seeds from Grower's Choice will maintain their excellent germination rates for up to 3 years! Just keep your favorite strains properly stored and you will be ready to grow when home cultivation of marijuana becomes legal. Order and collect legal, ungerminated marijuana seeds from Grower's Choice Seeds.
Medical Marijuana Online
Many of the medical benefits of marijuana come from a natural compound found in the plant called cannabidiol, or CBD. This compound has powerful anti-inflammatory effects on the body and is used to treat many different conditions and diseases. Grower's Choice Seeds carries high-CBD seeds for those looking for buds rich with CBD. Interestingly, CBD is not psychoactive. If you are looking for all the healing properties of marijuana with little to no "high" feeling, look to high-CBD medical seeds from Grower's Choice Seeds.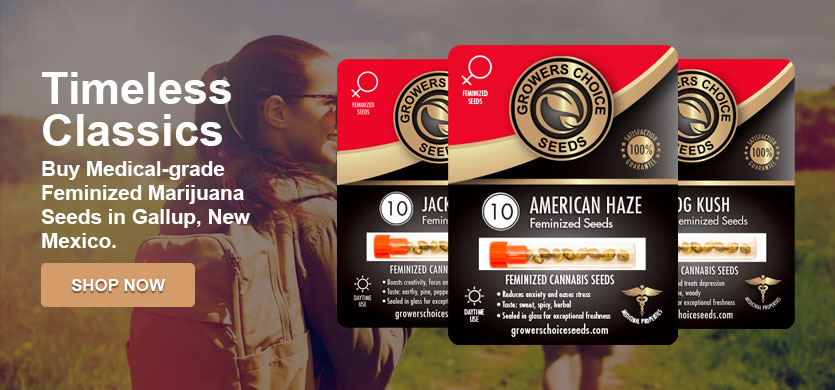 Best CBD Pot Seeds
Are high-CBD cannabis seeds right for you? Grower's Choice Seeds many popular strains to choose from! Here is a list of some of our most popular high-CBD pot seeds:
Start your high-CBD medical seed shipment from Grower's Choice Seeds today!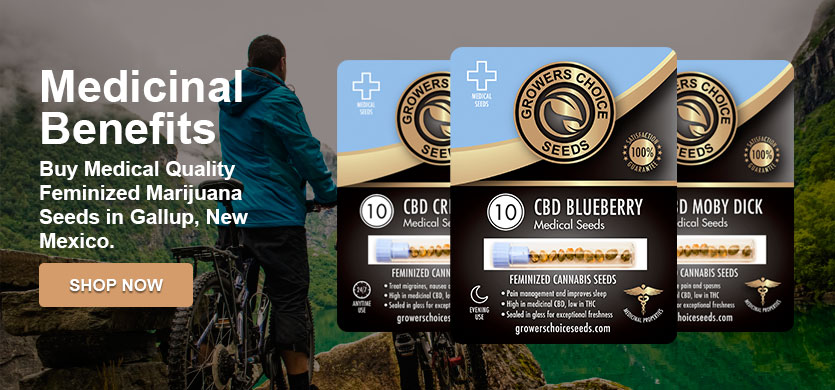 Fast Shipping from Grower's Choice Seeds
Grower's Choice Seeds will ship you premium Gallup marijuana seeds, fast! We send legal marijuana seeds to New Mexico everyday, so take advantage of our wide selection of affordably priced seeds and start your Grower's Choice delivery today!
Most Popular Cannabis Seeds in Gallup