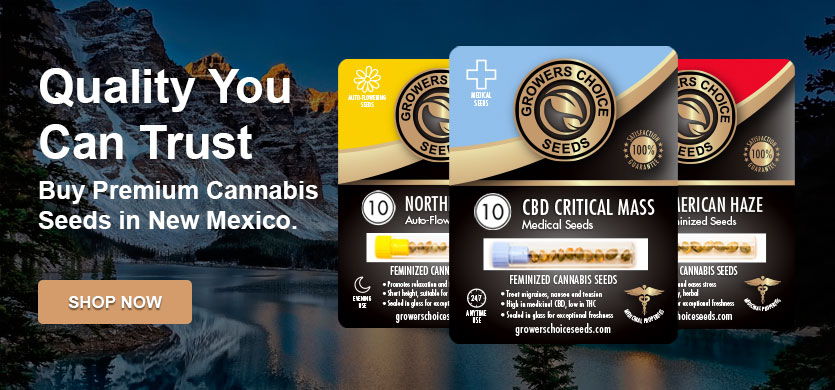 Here in New Mexico, marijuana seeds collectors flock to Growers Choice to fulfill their need for quality, lasting marijuana seeds. Check our offerings to find the perfect strain for your collection.
Compare Our Cannabis Seed Strains
Is marijuana legal in New Mexico?
New Mexico has some relatively open medical marijuana laws, compared to other states in its vicinity. Medical marijuana patients who are registered as such with the state can use marijuana products in the treatment of many different conditions including Huntington's disease, intractable nausea, peripheral neuropathy, spinal cord damage, and cervical dystonia. Every 90 days, registered patients are entitled to receive eight ounces of this healing medicine.
The state also has home cultivation allowances in order, which is great news for Growers Choice customers who want to buy marijuana seeds to grow their own plants and treat themselves with products whose history they fully comprehend. Registered patients can, under the medical marijuana law, grow up to 16 plants in their home, so long as no more than 4 are mature (harvestable) at any given time.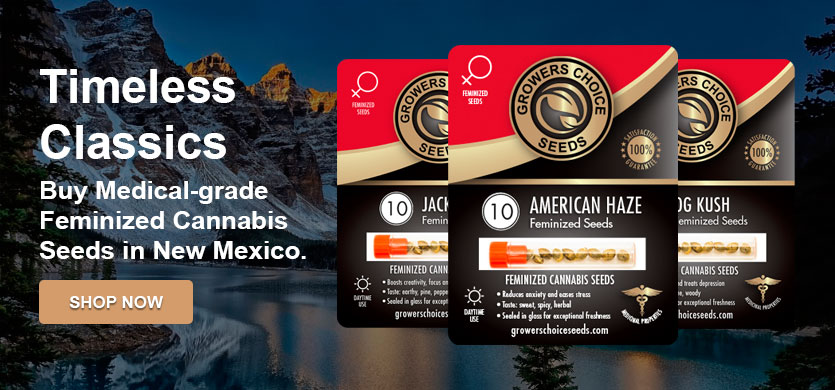 Get pot seeds in New Mexico
If you want to grow your own medicine right in the comfort of your home, you need pot seeds from a reputable grower and seller like Growers Choice. Don't settle for a seed bank that might source their marijuana seeds from just anywhere – Growers Choice is celebrated for our dedication to quality. All our marijuana seeds are tested and hand-selected for your order, following careful cultivation at the hands of experts in the field – our partner farmers.
Once you place your order, your marijuana seeds – in amounts of 3, 5, 10, or 25-seed packs, or bulk wholesale options – are packaged in medical-grade glass vials that keep your seeds fresh and viable for months (or even years)! Your order will be delivered right to your door in a discreet envelope or box so your medical treatment remains your own business, and your payment information will be stored securely and then promptly deleted once payment is confirmed.
At Growers Choice, we respect your privacy and your right to affordable, quality, natural medication.
How do I grow marijuana?
The first step, of course, is ordering excellent marijuana seeds. Growers Choice offers 21 premium strains, all of them reliably feminized and including auto-flowering and high-CBD medical varieties. The next step is germination, and Growers Choice has you covered there, too. On our website we outline our simple germination method, and as long as this method is followed, we promise a 90% germination guarantee – if fewer than 9 out of 10 seeds germinate, we'll send you new ones to make up the difference!
Once your seeds have sprouted their own little taproots, you can plant your tiny marijuana seedlings in soil for outdoor or indoor growing, or in a hydroponic medium for a less traditional – but no less rewarding – option. Your plants will spend a few weeks in the vegetative stage, and then between 50 and 90 days in the flowering stage (if you choose auto-flowering marijuana seeds, your plants will transition on their own). Once the growth period is complete, you'll have a large yield of healing flower to harvest, dry, cure, and consume – and we have articles to help you with all of that, too.
Just think – your own healing medicine with none of the questionable ingredients or origin stories of pharmaceuticals. It all starts with Growers Choice marijuana seeds, so get out there, and Get Growing!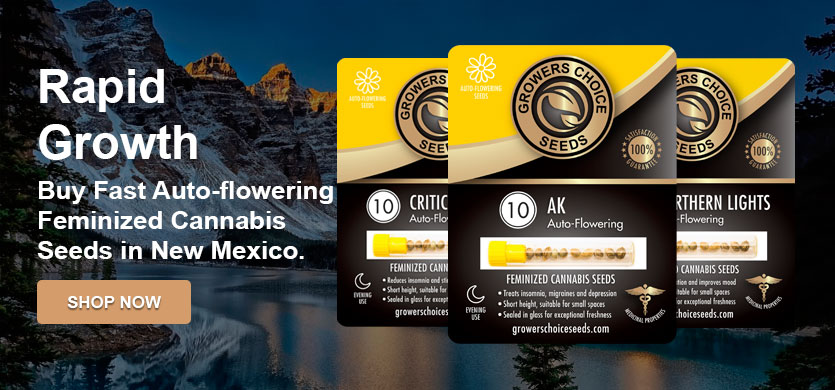 Growers Choice marijuana seeds in New Mexico:
…and more!
New Mexico medical gardeners have made their "Choice":
I have ordered other marijuana seeds but never again – Growers Choice is the only company I'll shop with. Why? Simply put, their customer service agents are just as reliable as their seeds, and that kind of trustworthiness deserves my repeat business. I'll tell my friends.