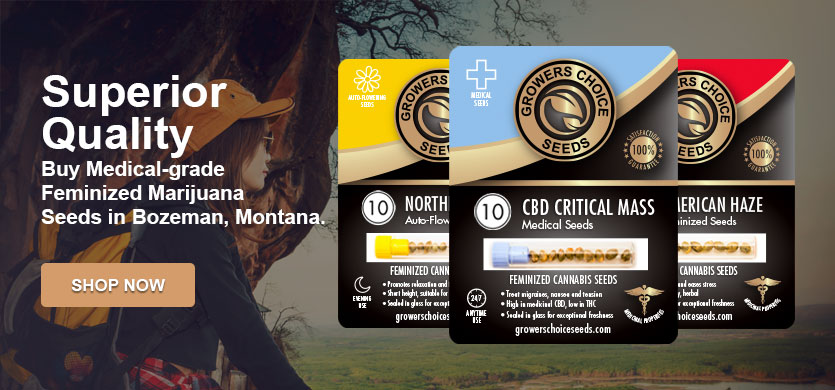 Buy Marijuana Seeds in Bozeman
Whether the market for Bozeman marijuana seeds is old hat or entirely new to you, Growers Choice has got the resources you need to start your growing experience. With 20 plus years of experience in this industry, we've got the know-how to make your online buying experience quick, smooth, and painless. Our quick delivery, vast selection of seeds, and informative webpage are no more than a click away.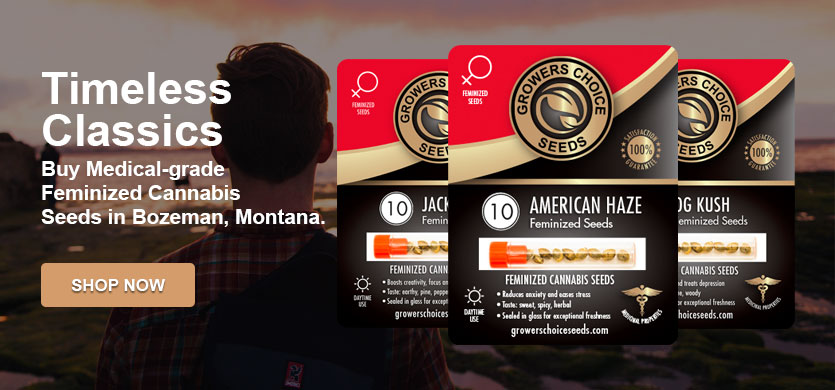 Marijuana Seeds for Sale in Bozeman
When you purchase Bozeman marijuana seeds from Growers Choice, rest assured knowing that your safety will always come first. From our 90% germination rate guarantee to our rigorous inspection process, we've got your best interests in mind.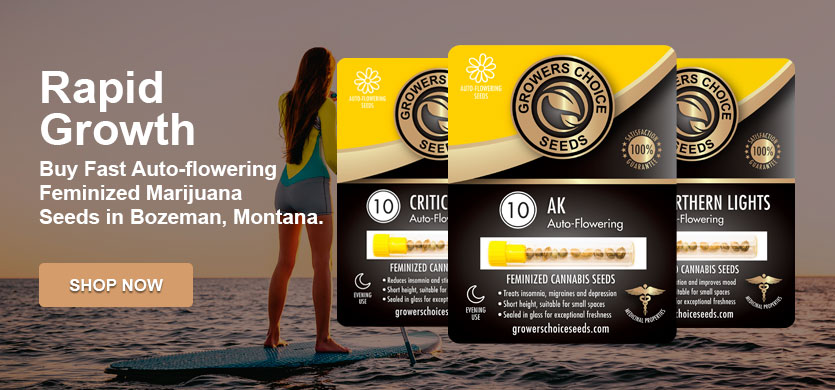 Munchies and Medical Marijuana
Ah, the munchies. Notorious for causing intense cravings for ice cream, potato chips, and pizza, this marijuana-inflicted state can bring even the most well-intentioned marijuana consumer into a caloric surplus. But how are medicinal users of this plant supposed to quell these feelings?
Because the cannabinoids found in medicinal marijuana—including THC and CBD—are at the root of the munchies, this phenomenon is essentially unavoidable when consuming pot for therapeutic purposes. These compounds trigger the release of dopamine and ghrelin, hormones that arouse hunger.
If you need a daily dose of medical marijuana to treat illness, you'll need to take preventative and preparatory measures when it comes to the munchies. Start with your in-house choice of snacks: instead of stocking a variety of junk food, keep sliced veggies, fruits, rice cakes, or lightly salted popcorn in your kitchen. These low-cal snacks will fight hunger—and keep your waistline happy.
To learn more about how to combat cravings, head over to our blog.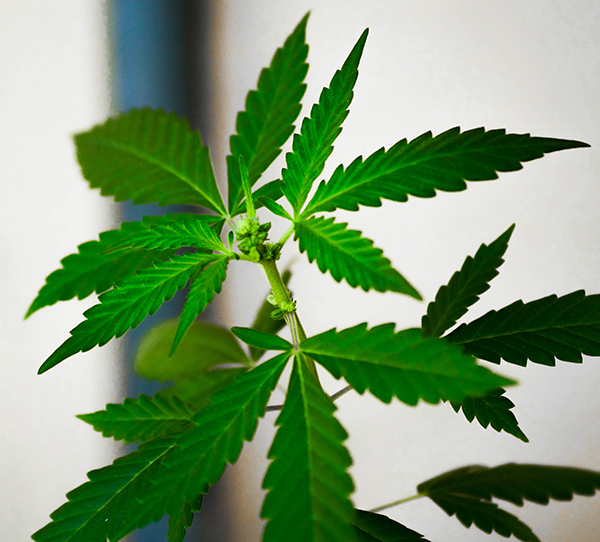 What are Bozeman's Pot Laws?
Although marijuana is legal for medicinal use in Montana, recreational consumption of pot remains illegal. Now, registered patients may consume medical marijuana, as well as grow it in their homes: as of June 2017, these individuals are permitted to have possession of four mature plants and four seedlings.
How Do I Keep My Pot Seeds Fresh?
Once you've purchased your pot seeds, they can be kept fresh for up to two years—if stored properly. Pot seeds are notoriously picky about where they're kept, so follow these guidelines when saving your strains for later:
Cold temperatures are ideal. Pot seeds can be drastically affected by fluctuations in heat, so keeping them in a temperature-controlled refrigerator is always best. They should be left in the fridge until they're ready for use.
Keep your seeds in a proper container. If you take your seeds out of their vaccum-sealed package, ensure that you place them in dark, moisture-controlled container. To accomplish this, place your seeds in a paper envelope in a coated, airtight, glass vessel.
Combat humidity. Humidity levels above 12% can cause fungi to grow on your seeds—keeping things between 6 and 9% is optimal.
Keep in mind that even if your seeds are perfectly packaged, their germination rate will decrease over time: the sooner you use them, the better. For more information about preserving your Bozeman marijuana seeds, check out our seed storage tips.
Compare Our Cannabis Seed Strains
Bozeman's Top Choice For Pot Seeds
I was very impressed with my buying experience at Growers Choice. Fast delivery, discreet packaging, and a vast product selection made this an easy-to-use online service.
Most Popular Marijuana Seeds in Surprise