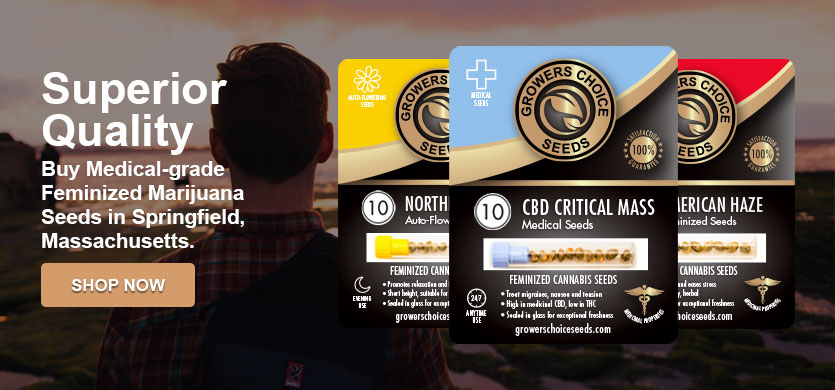 Can you legally grow marijuana in Springfield?
Back in 2016, Massachusetts voters agreed that the state needed a medical marijuana law, and so Question 4 was approved, and it permitted adults not participating in the medical marijuana program the right to legally grow up to six plants and possess personal use quantities of marijuana (up to one ounce, or five grams of concentrate).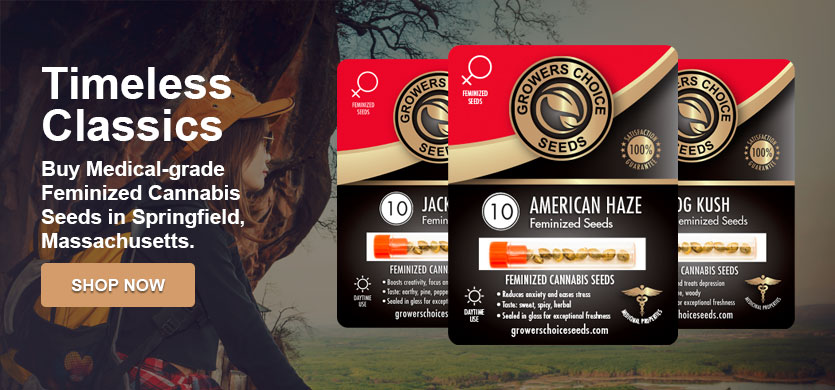 Buy marijuana seeds in Springfield
Thousands of both medical and recreational users have jumped on the pot gardening bandwagon, and you can too! Purchase the best quality feminized Springfield marijuana seeds online from Growers Choice Cannabis Seeds. You'll find old favorites and new, like American Haze or White Widow, in our feminized marijuana seed section. Shopping is a breeze – we offer multiple payment options for your convenience – and every purchase is sealed in medical-grade glass vials for shipping to ensure freshness upon delivery.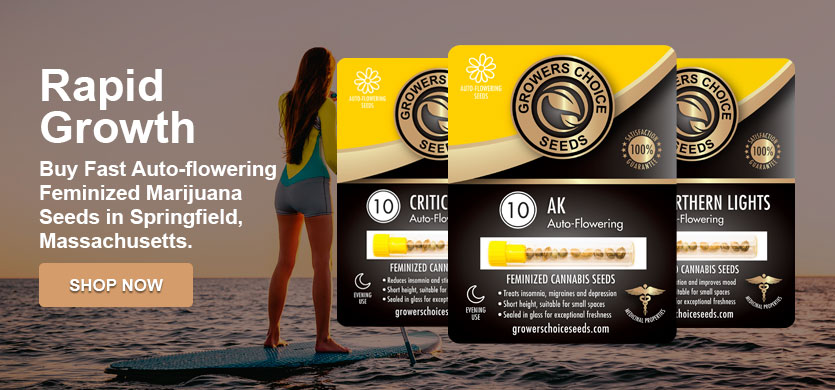 What is a cola of a marijuana plant?
Marijuana plants are comprised of several parts any good grower should know about, but the most important is the cola. The cola refers to the cluster of buds that grow together tightly. You'll find smaller colas along the budding sites of lower branches, but then main cola (also called the apical bud) will form at the very top of the flowering plant. It's from the cola that you'll find the resin-secreting flowers we harvest for ingestion. Know that you'll only harvest the best buds when you purchase your Springfield marijuana seeds from Growers Choice Cannabis Seeds.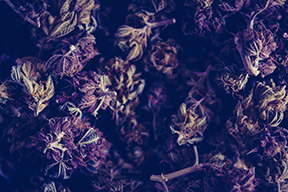 Why should I buy feminized pot seeds?
As with most plants, marijuana plants can be either male or female. The male plants produce small pollen sacs that pollinate female seeds to initiate seed production. But it's the flowering female plants, called sinsemilla, which grow the large, cannabinoid-rich buds while without seed that you want. Purchasing seeds that are "feminized" (like our own Power Plant) means you'll only get female seeds and female plants.
When you buy from an unknown or disrepute dealer, you never know what you're going to get, and could end up with a few male plants in your garden. Though you can still harvest the bud from flowers with seeds, it takes a few extra steps to get to the place where you can use it. Note: it makes sense to think that if marijuana plants can get you high, so can the seeds but that's not the case. Seeds don't have the best flavor, and they actually have little to no THC or CBD, so why bother?
Compare Our Cannabis Seed Strains
Nothing but the best for our customers in Springfield
I got so sick of picking seeds out of my pot (and I think every shirt I own has a hole from a hot spot), I decided to start ordering online from Growers Choice. I like their selection and that they deliver, I don't have to worry about anything! I get great harvests and only ever females, thank god. I'm not the best at growing pot, but I know I'm going to get something great from these seeds, every time.
Most Popular Marijuana Seeds in Surprise