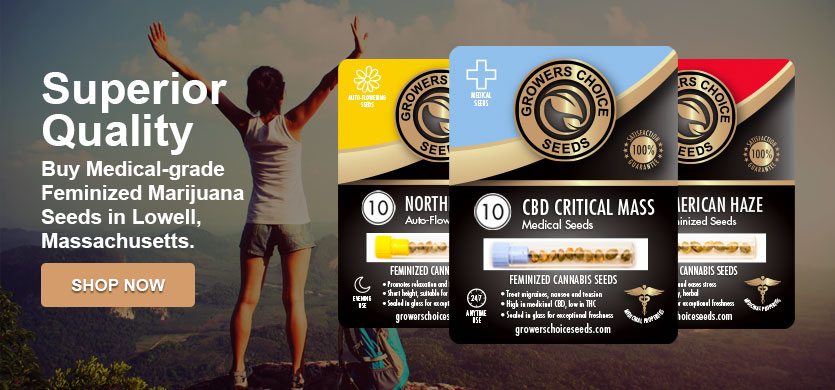 Can I buy marijuana seeds in Lowell?
Massachusetts is one of the few states that has legalized cultivation for both medical and recreational marijuana users, and since the ballot passed in November of 2016, interest in at-home pot gardening has surged.
Adults 21 and over are allowed up to 12 plants, six of which can be mature (immature plants are considered those that have yet to reach the flowering state). Make sure you harvest your plants on the right schedule so you never have more than six flowering plants at a time.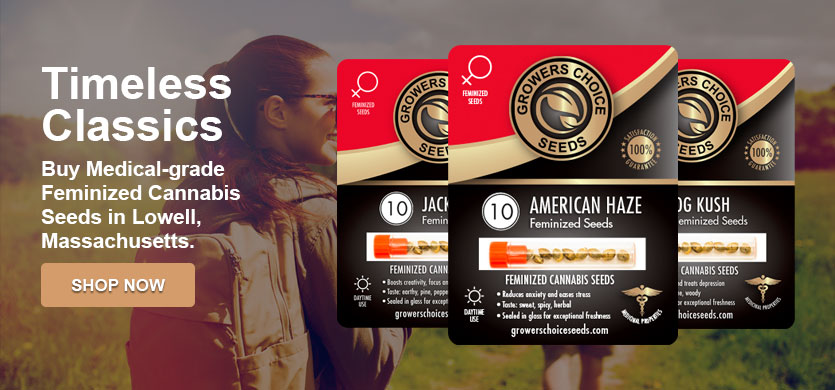 Buy marijuana seeds in Lowell
The best way to shop for Lowell marijuana seeds is online – you get your pick of top quality strains at reasonable prices, which are then shipped directly to your door. For your old favorites and soon to be new ones, (Northern Lights and Cheese come to mind) start your search at Growers Choice Cannabis Seeds. Our seed strains are picked for their potency, carefully cultivated and hand-picked to ensure quality. We offer a several payment options for your convenience, and ship your precious seeds in medical-grade glass vials to guarantee freshness on delivery.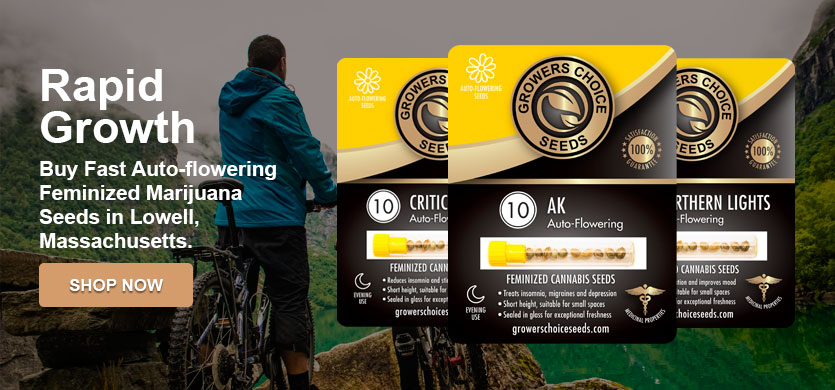 Is it better to grow marijuana indoors or outdoors?
Technically, marijuana is a weed (hence the popular nickname), and it can be grown anywhere, but if you want to get the most out of your marijuana garden, you'll need to consider the individual needs of your strain. While many marijuana strains will do well outdoors, some lend themselves well to the controlled conditions of an indoor grow room. Not to mention different states have different legal requirements around growing: while some allow for outdoor therapy gardens, most prefer if you keep your marijuana plants indoors and out of the public eye. Get the best quality Lowell marijuana seeds available when you shop online with Growers Choice Cannabis Seeds.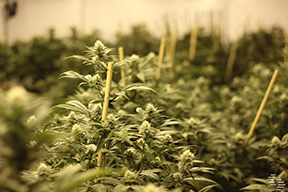 How can I grow marijuana seeds indoors?
Once your little seeds have germinated and sprouted taproots, growing pot in the comfort of your home is easy, assuming you have the right set up. From rich soil to water, marijuana can thrive in different growth mediums. But we'll talk about hydroponics.
"Planting" your marijuana seeds in water has several benefits. For one, plants grown in this way can often grow more quickly because the nutrients are delivered directly to the root system, reserving energy that can be spent on growing leaves and buds. Additionally, a hydroponic environment is significantly more sterile than soil, as soil can contain bugs and other parasites.
You can get the full low down on growing with hydroponics in this article from our library of articles on growing marijuana.
Why should I plant my own pot seeds?
We may be a little biased when it comes to growing marijuana at home for personal use, but with good reason, especially today! We place so much importance on the provenance of our food, choosing to purchase local over international, supporting small business and small farmers over conglomerates. But there's nothing better than reaping the fruits of your own labor. Growing pot is a satisfying experience. Not only do will you be able to trust the source, it's more cost effective. Sure, there's an initial investment but over the long haul, it's cheaper, and as you get better at it you can experiment with different techniques to improve the quality of your yield as well.
Compare Our Cannabis Seed Strains
We're growing on gardeners in Lowell
A good friend turned me onto Growers Choice when I was complaining one day about the lack of reputable shops to get seeds from. It's so much more convenient for me to buy online but I have had such terrible luck. Growers Choice is professional, they have a nice site, it's easy to find what you're looking for. The prices are good, seeds got here in record time. Love planting Growers Choice seeds too, you can tell they know what their doing because this superior bud by far.
Most Popular Marijuana Seeds in Surprise