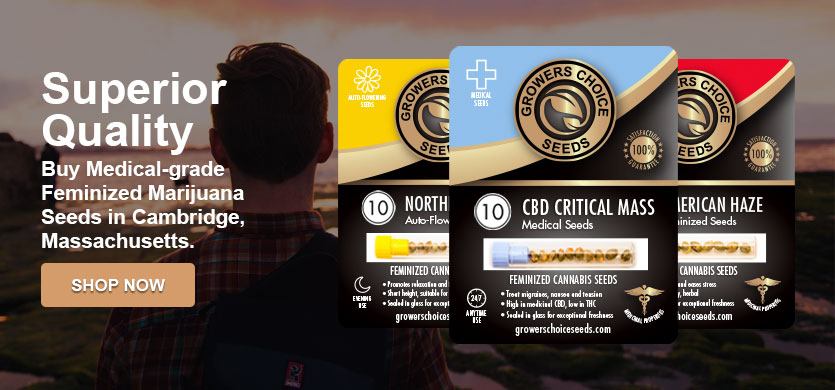 Who can use medical pot in Cambridge?
Since 2013, over 35,000 patients in Massachusetts have signed up for the state's medical marijuana program, which gives patients with qualifying conditions access to marijuana as a therapeutic treatment. Those conditions include:
Hepatitis C
Multiple sclerosis
As well as any other condition that has been determined in writing by a qualifying patient's physician.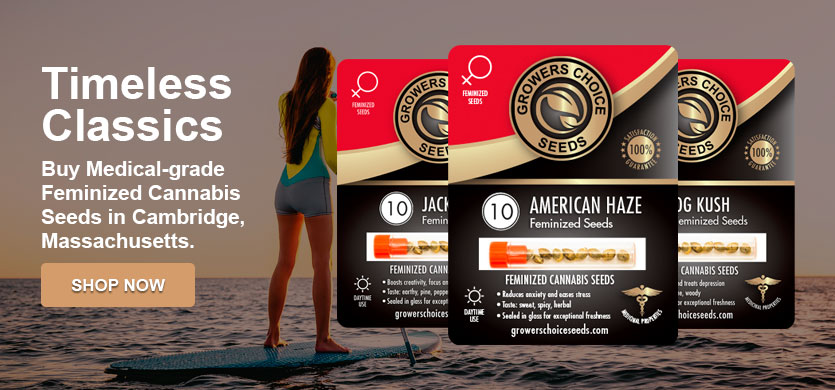 Marijuana seeds for sale in Cambridge
Cultivation of pot became legal in Massachusetts in 2016, when Question 4 was voted in. This legislation, which built upon the medical cannabis laws that already allowed for MMP patients to cultivate marijuana at home, states that adults over 21 are legally allowed to cultivate up to six mature plants (along with up to six immature) in the comfort of their own home. You can keep up to an ounce of your harvest, or gift up to an ounce, but you can't sell it. A worthwhile trade off, if you ask us.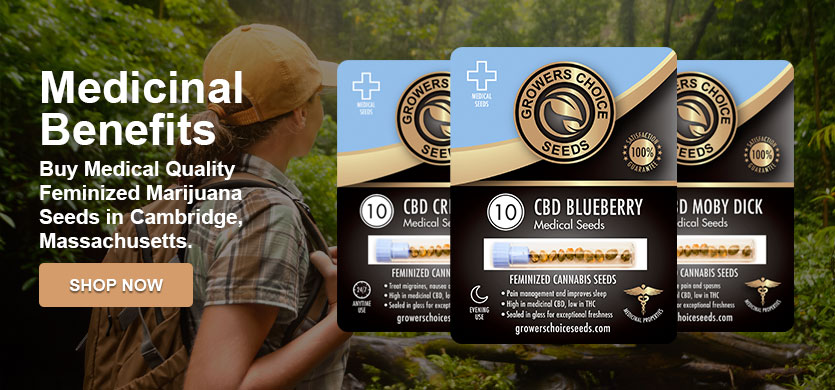 Buy marijuana seeds in Cambridge
If you are ready to join the thousands of other East Coast residents starting their own therapeutic gardens, get the ball rolling with the best Cambridge marijuana seeds, available for purchase on the Growers Choice Cannabis seeds website. You'll love our selection of auto-flowering seeds, like Tangerine Dream and Afghan. We seal every purchase in medical-grade glass vials to ensure freshness on delivery.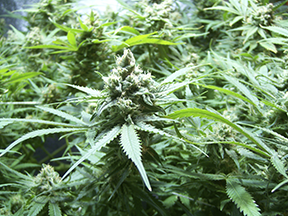 Why should I buy auto-flowering marijuana seeds?
Growing resin-rich marijuana buds is no easy feat. Sure, you pop some seeds in a pot and let nature take its course, but when you want maximum return on your investment you have to put in a little work. One of the most important factors in getting your plants from the vegetative stage to the flowering stage – the one that produces those big, sticky colas – is light. Whether you don't know what you're doing or you're just not keen on how much energy the necessary light period will consume, auto-flowering marijuana seeds. You can purchase top quality Cambridge marijuana seeds online when you shop with Growers Choice Cannabis Seeds.
Auto-flowering marijuana seeds take some of the guess work out of your gardening project. Pot plants are sensitive to changes in light, or photoperiod. While they're in the vegetative stage, they need near constant light from anywhere between 18 to 24 hours a day (depending on the strain). They will switch to the flowering stage when the light source changes to about 12 hours of light and 12 hours of darkness. This requires a level of vigilance that some novice growers may not be capable of.
This is where the ruderalis strain comes in handy. This particular strain adapted to harsh conditions and can switch from the vegetative stage to the flowering stage when it reaches a certain point in development. Ruderalis also has negligible amounts of THC and CBD, so cross-breeding this strain with other highly sought-after strains like Blueberry results in a new hybrid that has the best of both worlds.
Compare Our Cannabis Seed Strains
Once you go auto-flowering…
I feel like auto-flowering marijuana seeds are the best thing that's ever happened to growing marijuana. It saves so much time and so much effort. I get my seeds from Growers Choice because I know they're just that, choice, and I have only ever ended up with some beautiful little plants with fat little buds. Less work, better payoff. Sounds about right to me!
Most Popular Marijuana Seeds in Surprise