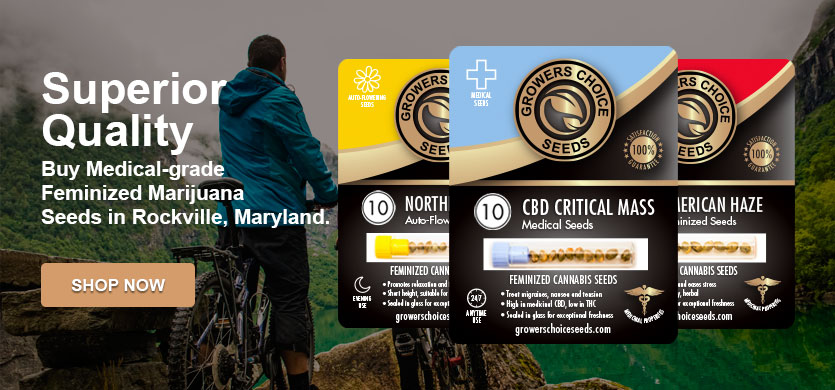 Is marijuana legal in Rockville?
Maryland passed their medical marijuana law back in 2014, though it has taken some time to come into effect. Still, nearly 9,000 patients have signed up to register with the state. In 2017, a new law took effect that would allow even more access to the drug, and authorized practitioners in a wider range of fields to recommend pot as a viable treatment option.
Currently, residents of the state who qualify for the program are allowed to possess up to a 30-day supply of the good stuff. Hopefully, the laws will soon be expanded to allow at-home cultivation. If you want to stock up on high quality Rockville marijuana seeds while you wait for that day, we invite you to visit the catalog of top notch indica and sativa pot seeds like Cinderella 99 and AK on Growers Choice Cannabis Seeds.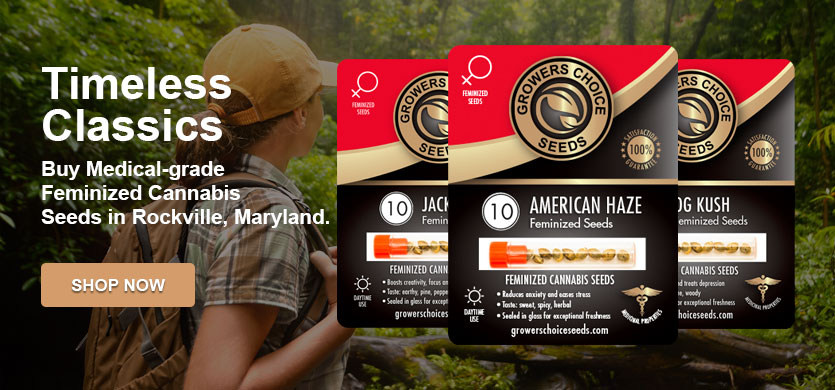 Buy marijuana seeds in Rockville
Our team of experts have selected what we believe to be the best marijuana strains on the market, and we carefully cultivate each seed to ensure you get the highest possible quality product imaginable. We seal every order in a medical-grade glass vial, and ship anywhere in North America, directly to your front door. Knowing that immature marijuana seeds (those that have not been germinated) are considered nothing more than a collector's item should help put any fears that your purchase will be confiscated at customs to rest.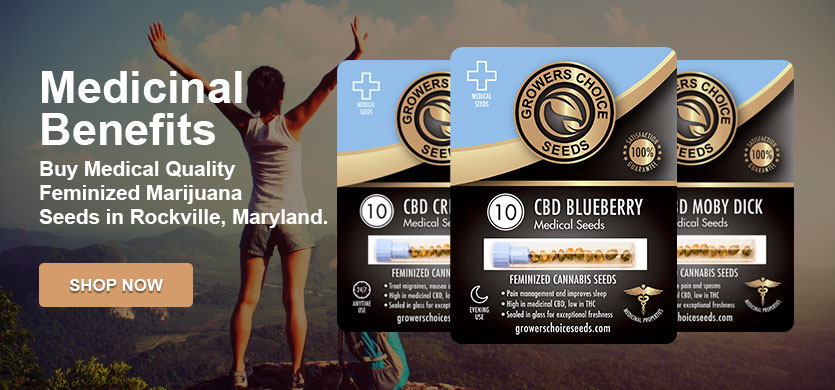 What is CBN marijuana?
With even a cursory knowledge of medical marijuana you're sure to have come across the terms "THC" and "CBD", both of which are abbreviated terms for cannabinoids found in marijuana that produce the effects we know and love (and can be found in Rockville marijuana seeds available online from Growers Choice Cannabis Seeds). You may not, however, have heard of CBN. We'll forgive you there, because this cannabinoid is only just starting to make a name for itself in medical circles.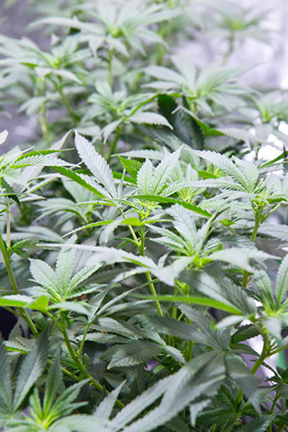 Can I get marijuana with high quantities of CBN?
Unlike it's counterparts, you'll only find trace amounts of CBN in dried marijuana buds, rarely more than 1%. But CBN is a product of THC degradation, meaning that as THC oxidizes, either by introducing heat (as during the combustion process) or oxygen, it is converted into CBN. Poorly stored cannabis is likely to have higher levels of CBN than fresh colas that have been properly preserved. It's been said that older pot is more effective at bringing about sleepiness, now we have a reason why!
Compare Our Cannabis Seed Strains
What do growers in Rockville have to say about us?
Excellent selection and prices, efficient shipping, perfect seeds, every time. By far, this is one of the best companies I've ever done business with. I highly recommend Growers Choice.
Most Popular Marijuana Seeds in Surprise