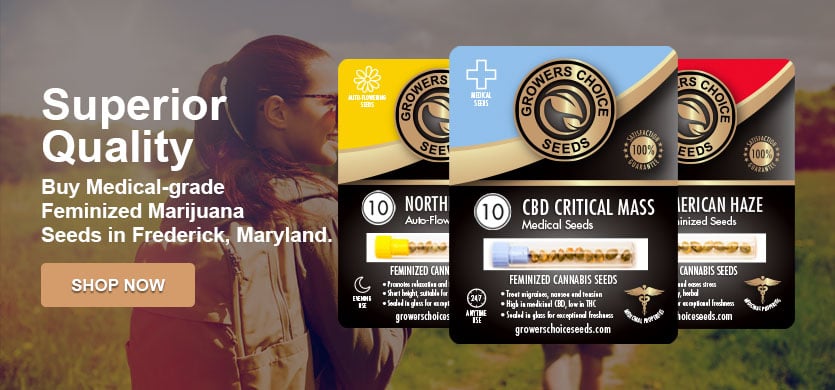 How can I get pot seeds in Frederick?
In 2014, Maryland instituted their medical marijuana law allowing patients in Frederick access to this relief-bringing plant. Unfortunately, state bureaucracy made it extremely difficult for dispensaries to open their doors, though in late 2017 shops were finally given the go-ahead to start planting.
For patients looking to buy their own Frederick marijuana seeds, make sure you visit Growers Choice Cannabis Seeds online and peruse our selection of potent, popular strains from around the world. Our medical strains, like CBD Critical Mass, are some of our best-selling strains, though you can also consider those like Northern Lights or Jack Herer, which, despite having higher levels of THC, have known medical benefits. Once you place your order, your seeds will be delivered to your front door in no time. Though some shoppers may have concerns their purchase may not make it through customs, non-germinated pot seeds are considered an adult novelty item and there's no penalty in owning them.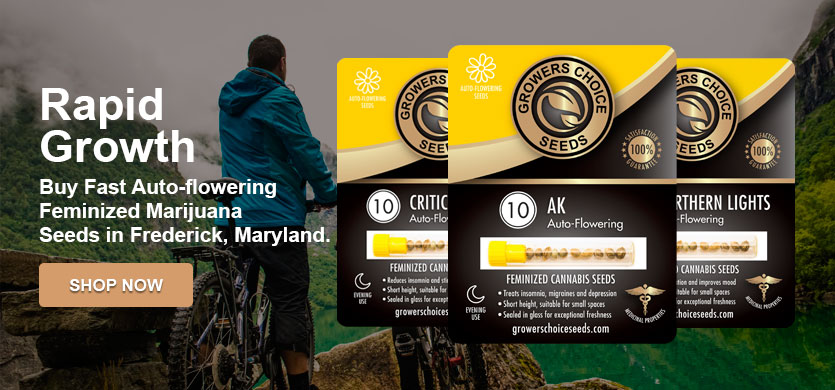 What makes marijuana such a good medication?
While still, so many people consider marijuana a recreational drug, there is a growing body of evidence to prove the contrary – that this plant is a modern miracle that has been used in alternative healthcare practices to treat chronic conditions for centuries. So, you wonder what makes marijuana such an effective medical treatment. This has everything to do with the endocannabinoid system, an important physiologic system in every human body, which was named for the plant that led to its discovery. The endocannabinoid system works throughout the body, but is tasked with one job: maintain a stable environment. While the body naturally creates its own chemicals to interact with this system, cannabinoids found in marijuana mimic these almost exactly. Looking for top notch Frederick marijuana seeds? Shop online with Growers Choice Cannabis Seeds.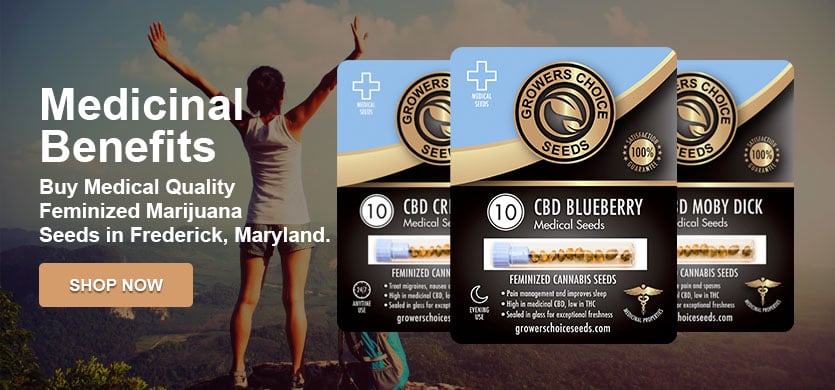 Is marijuana considered safe?
Although marijuana has come to be associated with a host of negative behaviours, getting "high" is a small percentage of what pot can do for you. In fact, the cannabinoids cannabidiol (CBD) and cannabinol (CBN) are non-psychoactive, meaning you get all the excellent therapeutic benefits without the hallucinations. Additionally, if both THC and CBD are present in a particular strain, CBD will effectively block the uptake of THC into the body, so the effects of the THC will either be cancelled out, or significantly diminished.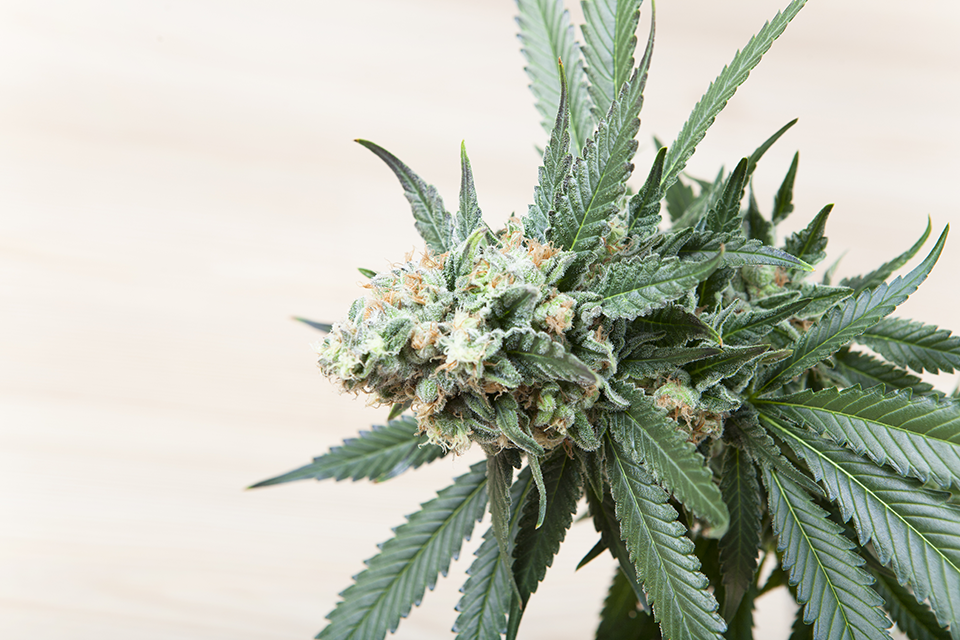 Compare Our Cannabis Seed Strains
Happy customers in Frederick are raving about us
Shopping Growers Choice is easy because you always know you're going to get exactly what you want, and exactly what you pay for. I couldn't believe how quickly my seeds got here, in less time than specified! They were all super fresh, no problems germinating. I only shop Growers Choice for my med seeds, I think everyone should!
Most Popular Marijuana Seeds in Surprise