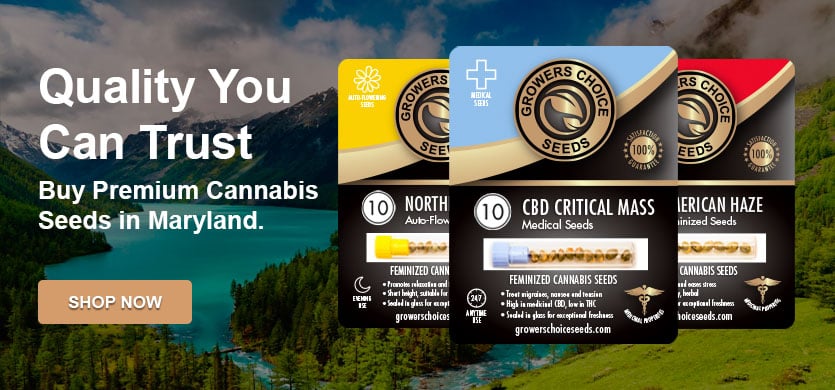 Get premium Maryland marijuana seeds delivered straight to your door when you place your order with Growers Choice! We sell only the finest, carefully tended and tested feminized marijuana seeds you're likely to find on the internet.
Compare Our Cannabis Seed Strains
Maryland Marijuana Laws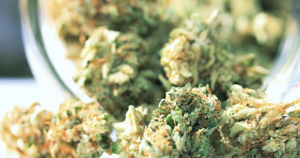 In Maryland, patients can register to use medical marijuana through the Maryland Medical Cannabis Commission. Registered individuals have access to a 30-day supply of marijuana to treat conditions like:
Anorexia
Wasting syndrome
Chronic pain
Glaucoma
Severe muscle spasm
Marijuana seeds are also legal to purchase in Maryland; federal laws identify marijuana seeds as adult souvenirs, so as long as the products remain ungerminated (dormant), they can be collected and kept by anyone over the age of 21.
Find pot seeds in Maryland
Growers Choice has everything you need to discover the best marijuana seeds on the market, and we're happy to deliver your order straight to your door in Maryland or anywhere else in the United States or Canada. At Growers Choice, we don't just toss random marijuana seeds into little baggies. No, our seeds are tested and hand-selected, then placed in medical-grade glass vials that ensure freshness and longevity. The glass vials are packaged in custom plastic shells with colorful inserts that outline everything you need to know about your seeds. With Growers Choice, you can stock up for the inevitable day growing your own marijuana becomes legal.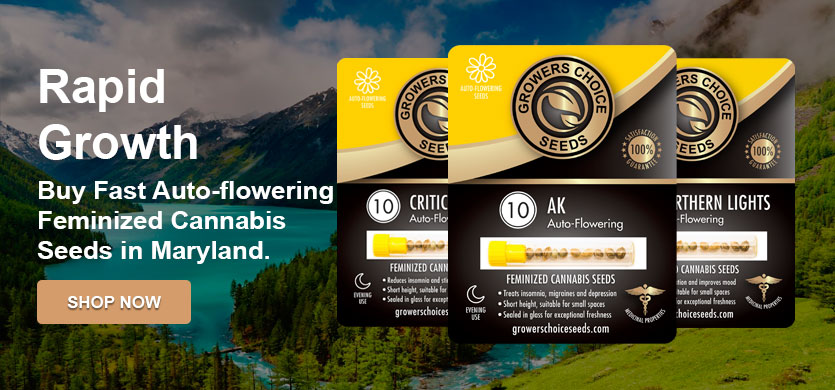 Marijuana seed banks in Maryland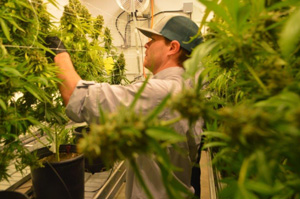 Maryland doesn't have much for dispensaries or regional seed banks, but Growers Choice ensures you don't need either of these. Much better than a seed bank, Growers Choice carries only their own tried-and-true cannabis seeds, tended and harvested by horticultural and botanical experts with knowledge gleaned from decades in the industry. Why would you take your chances with marijuana seeds from a company that sells dozens of different brands when you can reach out to Growers Choice with any questions, and get assistance from a real customer service person?
Buy marijuana seeds in Maryland
At Growers Choice, we ship each of our 21 marijuana seed strains all across North America in discreet packaging that ensures your purchase remains your business. All our marijuana seeds are 100% feminized using only the most reliable methods – no male plants (and the weeding inherent with growing them) for you! Our feminized strains are broken down into three healing medicinal categories: regular, auto-flowering, and medical. Our medical marijuana seeds contain between 5 and 7% CBD and equal amounts of THC, resulting in psychoactivity-free mental and physical benefits. All our marijuana seeds are sold in packs of 3, 5, 10, and 25, and we also offer fantastic wholesale savings to businesses (dispensaries, garden centers and nurseries) who would like to buy in bulk.
Order your collectible marijuana seeds today.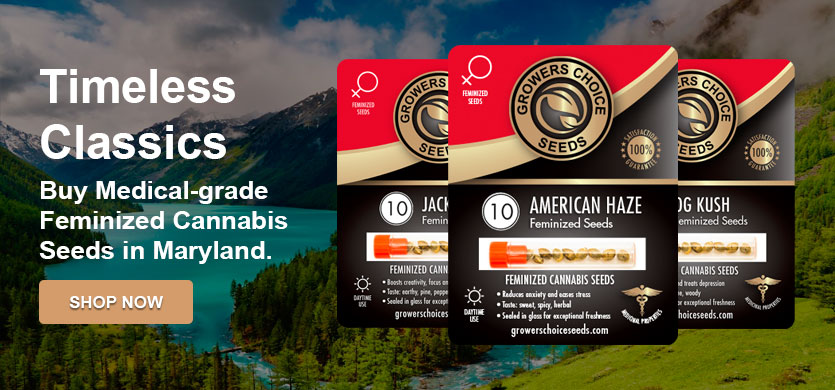 I will never shop anywhere else. I love my weed seeds from Growers Choice and I plan to tell all my friends.
I just spent the last three hours delving into the Growers Choice online library of grow advice. Wow that's a lot of information! Looks like I've got a lot left to learn! I'm so grateful for the detailed information that I am able to access through Growers Choice. I've only just started growing my own weed here in Maryland, and cannabis seeds like the ones offered on this site are hard to find. Great selection here and a good price too!
Growers Choice marijuana seeds in Maryland: