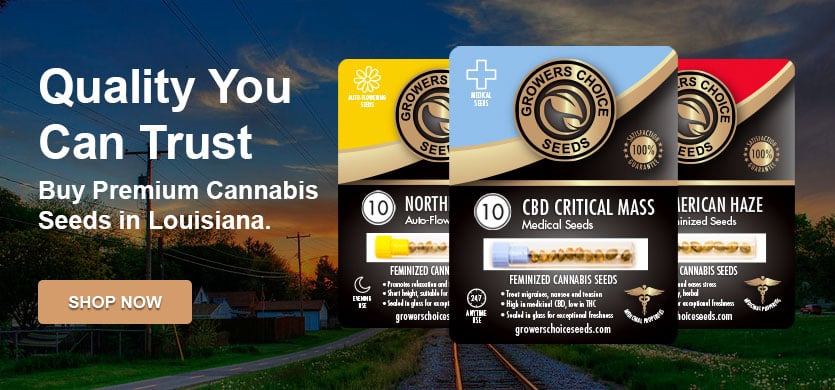 Where to buy marijuana in Louisiana?
As they continue to grow in popularity, marijuana seeds are becoming more and more mainstream in Louisiana culture.
Easily, the first things that comes to mind when you think "Louisiana" would be Mardi Gras, sprawling southern plantations and Cajun cooking. Strolling the French Quarter of New Orleans in search of the perfect beignet; taking a riverboat gambling cruise in Shreveport; sampling crawfish fresh off the farm in Lafayette, Louisiana has so much to offer.
There's something to see and do on every corner, and for those living, loving or just visiting, marijuana can help make things happen.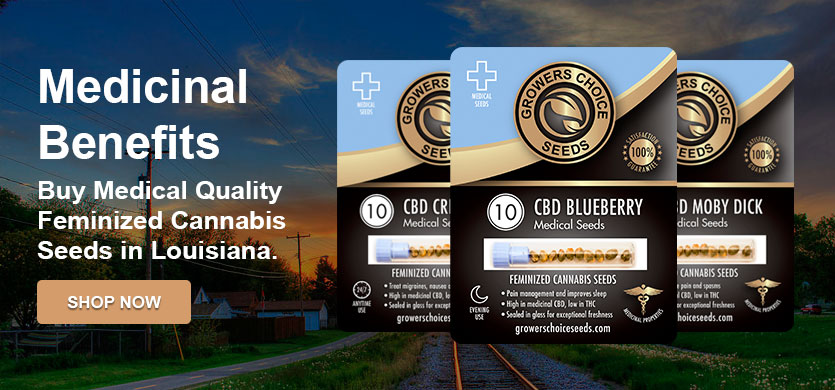 Compare Our Cannabis Seed Strains
What can I use pot seeds for?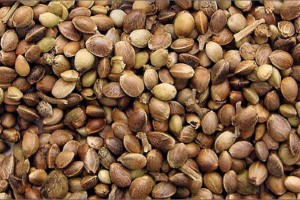 Research has proven that medical pot seeds can produce a potent medicine with applications that are far reaching. From stress and anxious thoughts relief, to easing chronic and acute pain, to aiding in increasing appetite in those suffering from eating disorders like anorexia or patients undergoing chemotherapy, all-natural medical marijuana, derived from healthy, premium quality marijuana seeds, have aided hundreds of thousands of people.
Blueberry auto-flowering marijuana is an easy to grow, fruity plant that usually leaves the user feeling super relaxed or happily calm. You should notice some pain relief from this strain, but it's also great for dealing with stress, insomnia, headaches and even mood disorders like ADHD and bi-polar disorder. For help with relaxing and mild pain relief, a strain like Cinderella 99 might be the marijuana seed you need.
Can I buy marijuana in Louisiana?
According to state law, recreational use of marijuana is not allowed, although it has recently been decriminalized. Buying medical marijuana and marijuana seeds is accepted in Louisiana, which is good news for proponents of this powerful plant, and those looking to reap the benefits of growing their own supply of all natural medicine in the comfort of their own home.
There are no medical marijuana dispensaries in Louisiana yet, but you can still get your hands on high quality marijuana seeds by shopping online for Growers Choice marijuana seeds. Our online catalogue has a wide selection of premium feminized and autoflowering seeds that suit a range of needs.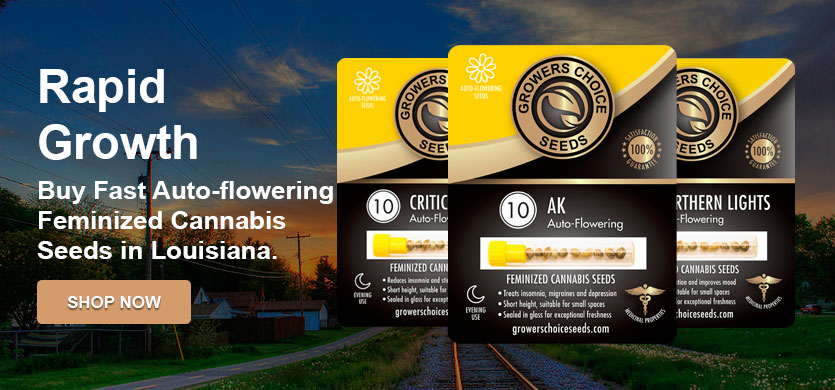 Get marijuana seeds online
If you're looking for marijuana seeds, look no further than Growers Choice. Our fantastic selection of 21 cannabis seed strains is available right here on our website. Your order is shipped straight to your door, quickly and discreetly. Why hunt the shops when you could just hop on the internet? Choose Growers Choice marijuana seeds to grow and enhance your collection.