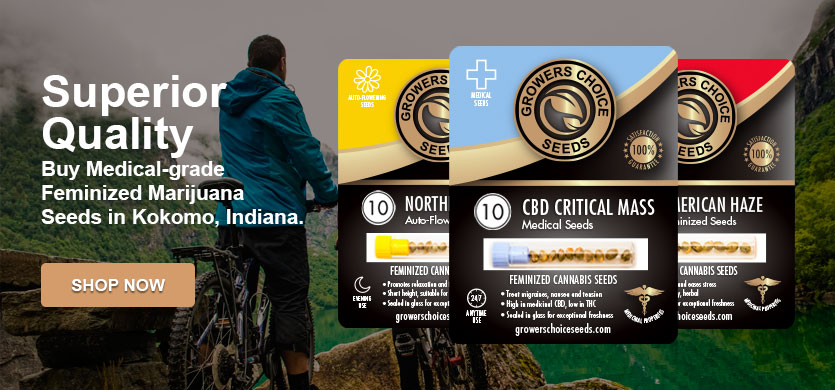 Buy Kokomo Marijuana Seeds from Grower's Choice
Getting Kokomo marijuana seeds is now easier than ever! You can now order premium seeds online and have them shipped directly to your home! Grower's Choice Seeds has a wide selection of high-quality feminized, high-CBD, and autoflowering seeds available for you to buy legally in Kokomo. We carry the strain you have been wanting to get your hands on! Start your delivery today with Grower's Choice Seeds.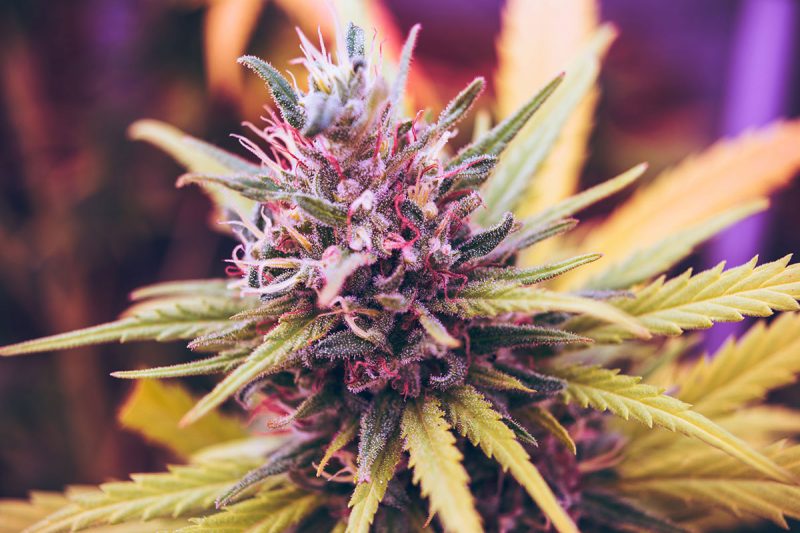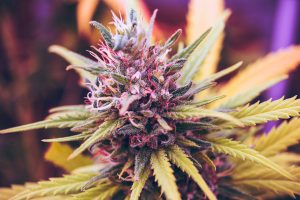 Is Marijuana Legal in Indiana?
You can now legally own marijuana seeds in Indiana! Even if your state has laws against the use of cannabis, ungerminated seeds are in fact, legal. Grower's Choice Seeds will ship you your 100% legal seeds safely and discreetly! Recently, Governor Eric Holcomb signed a bill into law that allows residents of Indiana access to low-THC cannabis oil. It is very likely that the laws will continue to move in this positive direction in coming ballot initiatives. You can stock up on high-quality marijuana seeds now by ordering through Grower's Choice Seeds online! When home cultivation is fully legalized, you will be ready to hit the ground running with premium Grower's Choice seeds.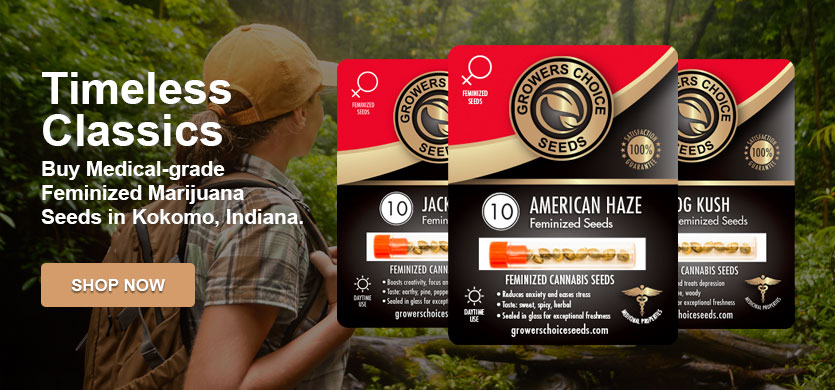 Auto-Flowering Pot Seed Delivery
We generally advise beginners to start with auto-flowering pot seeds, since they do not require the same light manipulation that regular feminized seeds need. These plants produce flowers all on their own, and usually a little faster! Getting started is simple with auto-flowering seeds from Grower's Choice Seeds.
How Long Do Marijuana Seeds Last?
Did you know that you can store your Grower's Choice Seeds for 3 years and still maintain viability? We ship your seeds in medical-grade, vacuum-sealed glass vials to help keep them safe and secure for years to come. If you need to store your Grower's Choice Seeds for an extended period of time, here are a few things you will need:
Seed envelopes

Glass or metal sealable container

Refrigerator (not the freezer!)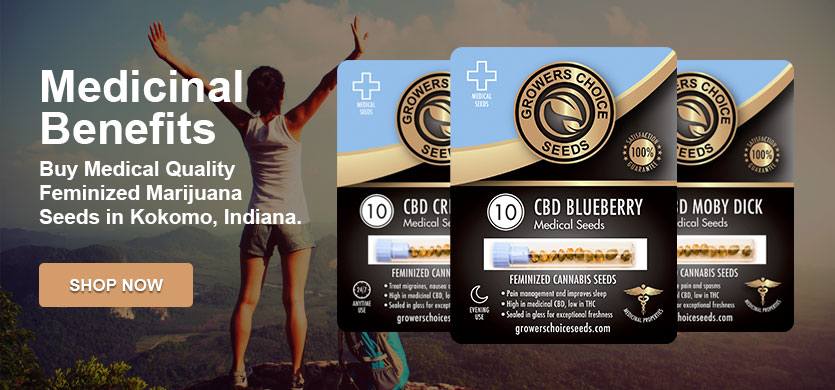 Medical CBD Strains
Medical marijuana is a great source of proven relief for millions of people around the world. A major reason for the plant's therapeutic benefits is a chemical compound called cannabidiol, or CBD. For those who are looking for plants with flowers loaded with CBD, check out our selection of high-CBD strains. Grower's Choice Seeds is your source high-quality medical marijuana seeds. Remember, we ship fast and discreet directly to your door!
Order the Best Seeds Available on the Internet
Grower's Choice Seeds is your reliable online store for the premium Kokomo marijuana seeds. No need to risk your hard earned cash with questionable seeds. No matter what strain you order, Grower's Choice seeds are genetically verified and fully feminized. If you need marijuana seeds fast, start your delivery today!
Most Popular Cannabis Seeds in Kokomo