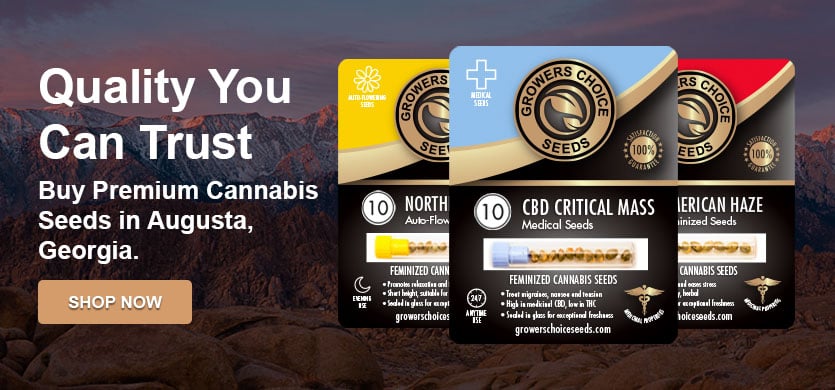 Buy marijuana seeds in Augusta
Peruse our selection of marijuana seed strains, ideal for treating symptoms associated with insomnia. Strains like OG Kush and Cheese are both considered excellent options for people struggling with getting enough of the right sleep every night.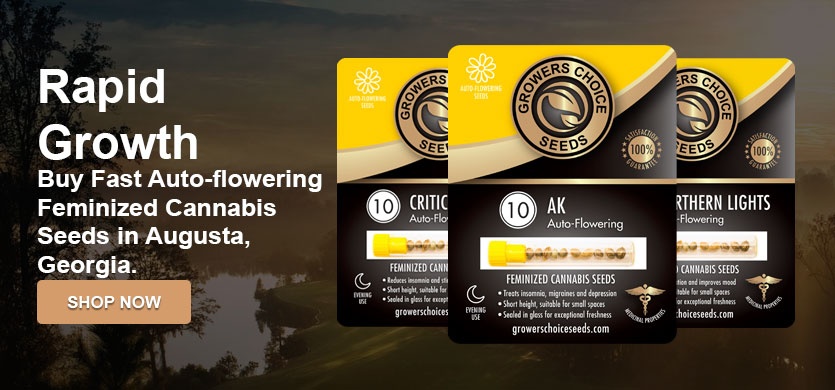 Is it legal to have marijuana seeds in Augusta?
The state of Georgia passed their CBD-specific medical marijuana laws back in 2015, which were expanded a year later to almost double the list of eligible conditions. For now, only a small amount of people in the state are participating in the medical marijuana program, but you can still purchase Augusta marijuana seeds online when you shop with Growers Choice Cannabis Seeds.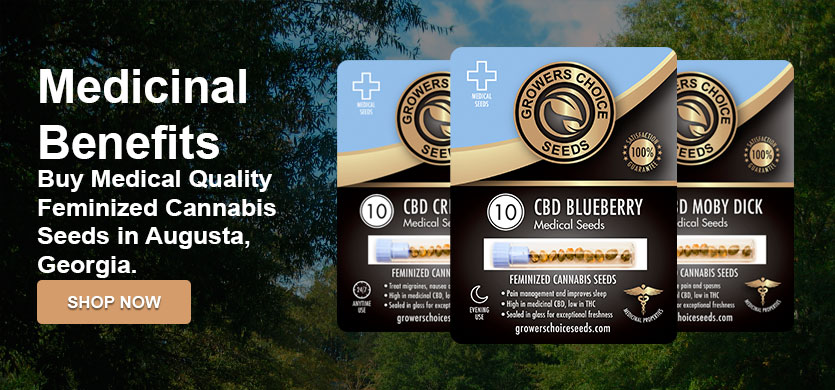 Buy the Best Marijuana Seeds in Augusta
Once you've placed your order, your Augusta marijuana seeds will be carefully sealed in a medical-grade glass vial before being shipped from our facility in Canada to your US home address.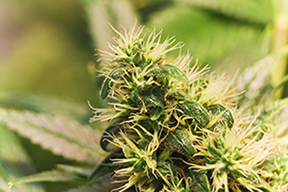 Are marijuana seeds ok for insomnia?
Characterized as difficulty falling or staying asleep, insomnia has probably affected everyone at some point in their life. Your body needs an adequate amount of sleep nightly in order to perform even the most basic of functions. Insomnia doesn't just leave you feeling a little sleepy, like that time you stayed up too late binge-watching Netflix. Individuals suffering from insomnia regularly report feeling fatigue, low energy, difficulty concentrating and mood disorders during the day. Insomnia can also be characterized by its duration: acute insomnia is brief and can be attributed to life circumstances, while chronic insomnia refers to disruption in sleep that occurs at least three nights a week and can last up to three months. Though you will come across a handful of solutions to get yourself back into a good circadian rhythm, you may want to consider the positives of adding marijuana to your nightly sleep routine. Find high quality Augusta marijuana seeds for sale online at Growers Choice Cannabis Seeds.
How does marijuana work for insomniacs?
Marijuana can be classified under two strains, the indica strain and the sativa. Of the two, indica strains have the most sedating qualities. Though there is little research to explain exactly what makes indica's so good at bed time, some suggest it has to do with marijuana terpene content, and that indicas may contain more sedating terpenes than sativa strains.
Compare Our Cannabis Seed Strains
Get a better night's sleep with Growers Choice
I have struggled at night time for years; my brain just won't shut off. But I've been sleeping like a baby since I harvested these Cheese seeds I got from Growers Choice. They hit just the right note at the end of the day, I smoke a joint and I'm so done I can't even get through an entire television show. Best decision I ever made!
Most Popular Marijuana Seeds in Surprise