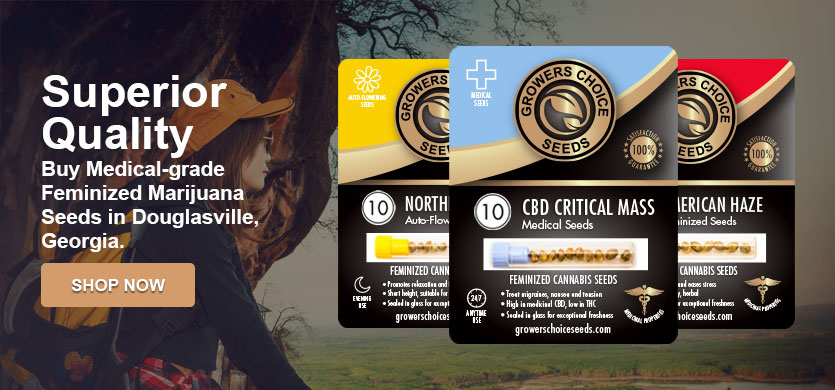 Where to Find Douglasville Marijuana Seeds Online for Delivery
If you're wondering where to find high quality marijuana seeds for sale online, then look no further than Growers Choice Seeds. We have the best Douglasville marijuana seeds for sale online, all fully feminized and completely ungerminated. Shop online now to find the seeds you need, and order using our secure server for fast and discreet delivery right to your door.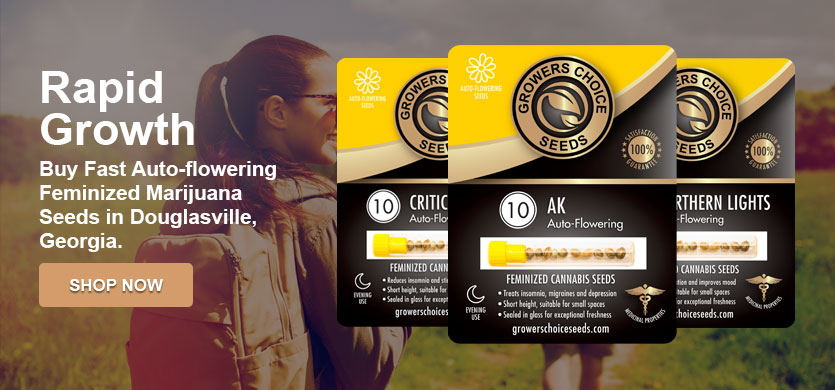 Is Medical Marijuana Legal in the State of Georgia?
Medical marijuana use has not been legalized in the state of Georgia at this time. Although neighboring southern states, including Florida, do have medical marijuana legislation on their books to provide legal and safe access to medicinal marijuana to their residents, Georgia has lagged behind. There is some access to medical CBD marijuana products for qualifying patients, but it is extremely limited. Of course, recreational marijuana use remains prohibited as well. In fact, even industrial hemp is prohibited from cultivation in the state of Georgia, although it is widely grown across the US for its use in textiles, rope, paper, and other commercial products. Even though growing marijuana plants is off limits, buying marijuana seeds is completely legal. Ungerminated marijuana seeds are considered novelty items, and are legal to buy and own in the United States. For the best ungerminated marijuana seeds around, shop online with Growers Choice Seeds today. All of our high quality marijuana seeds are completely ungerminated.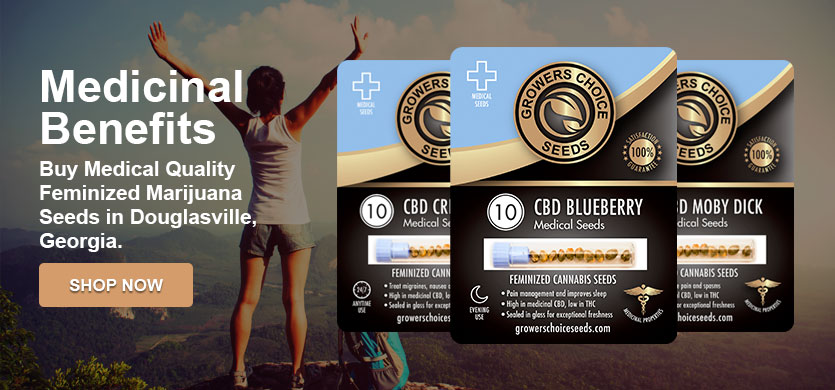 Order Our Best Selling Kush Marijuana Seeds Today
One of the oldest known strains of marijuana in the world, Kush marijuana seeds were originally cultivated in the Hindu Kush mountains of Central Asia. These exotic strains are known for their calming, relaxing effects, and can be used to aid in meditation and deep relaxation. These indica dominant strains are effective at relieving anxiety and depression as well. Our favorite Kush strains in stock now are
Find the kush marijuana seeds that are right for you when you shop our online inventory today. All of our marijuana seeds are fully feminized and ungerminated.
Where to Order High Quality Weed Seeds for Fast Delivery
Ordering high quality weed seeds online has never been easier, thanks to Growers Choice Seeds. We carry the largest selection of Douglasville marijuana seeds anywhere online, and all of our seeds are fully feminized and completely ungerminated. Find your favorite strains, then order online using our secure payment portal. We'll ship your marijuana seeds right to your door in as little as one week using our fast and discreet delivery. Tracking numbers are available on every order, so you can follow your seeds from our doors to yours.
Most Popular Marijuana Seeds in Surprise