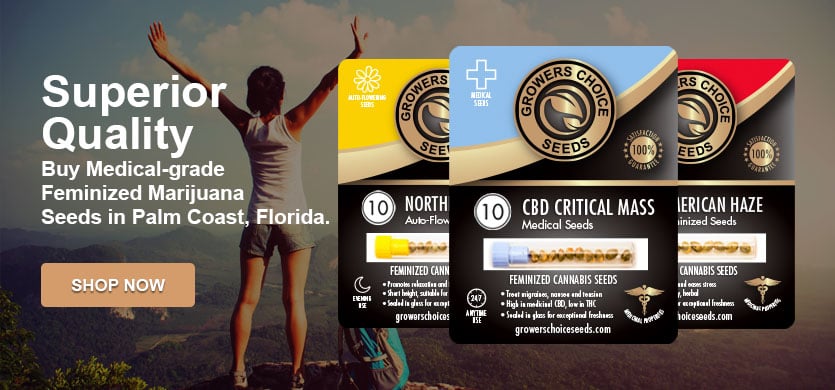 How to Get Palm Coast Marijuana Seeds Delivered Fast
Getting high quality marijuana seeds delivered to your door is easier than you think, thanks to Growers Choice Seeds. With dozens of the best Palm Coast marijuana seeds in stock now, including all of your favorite indica, sativa, and hybrid strains, we're sure to have the seeds you need. We even carry high content CBD marijuana seeds and easy to grow autoflowering marijuana seeds. Select your seeds, and order online using our secure server. We provide fast and discreet delivery right to your door in as little as one week, with tracking available on every order.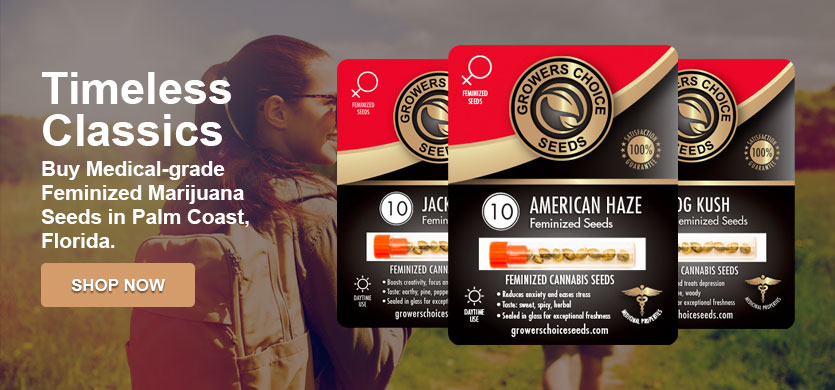 Can I Grow Medical Marijuana Plants Legally in Florida?
Unfortunately, growing medical marijuana plants is not allowed at this time in Florida. Although medical marijuana has been legal in Florida since 2016, the law does not allow for individual medical marijuana card holders to grow their own medical marijuana plants. Instead, they must purchase their marijuana and other cannabis products from a state licensed dispensary. Recreational marijuana use remains prohibited at this time as well. There is some access to medical CBD products as well, for patients with qualifying conditions like PTSD, MS, and others. While marijuana cultivation is not permitted, ungerminated marijuana seeds may be purchased legally in the state. Ungerminated marijuana seeds are considered novelty items, and are legal to buy and own in the United States. Growers Choice Seeds carries a wide selection of high quality ungerminated marijuana seeds, all fully feminized for your convenience. To help advocate for a greener future in Florida, get involved with your local marijuana activism group, call or email your local lawmakers, and make sure you're registered to vote!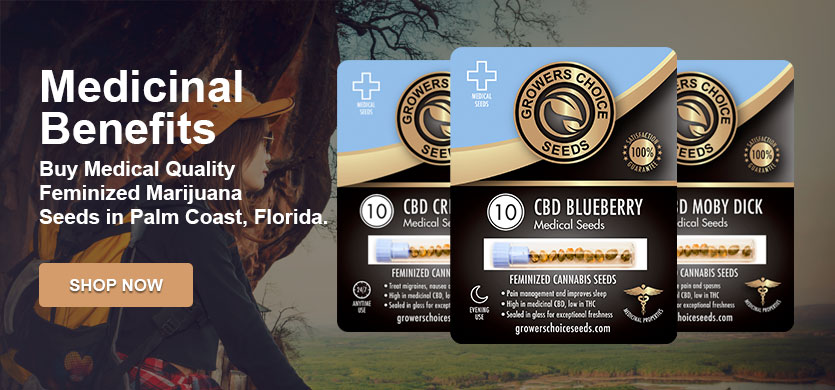 Find the Best Autoflowering Marijuana Seeds Online
For first time growers, we recommend our easy to grow autoflowering marijuana seeds. These strains don't require a complex light change to mature, and will flower automatically, as their name suggests. Autoflowering marijuana plants grow fast, typically maturing in less than 60 days, and producing up to 600 grams of marijuana flower. Our best selling autoflowering marijuana seeds are
Bubble Gum Autoflowering Feminized Marijuana Seeds
Hindu Kush Autoflowering Feminized Marijuana Seeds
Haze Xl Autoflowering Feminized Marijuana Seeds
Northern Lights Autoflowering Feminized Marijuana Seeds
Critical Purple Autoflowering Feminized Marijuana Seeds
Learn more about these easy growing autoflowering marijuana seeds when you check out their products pages, where you'll find strain details like THC content, average yield, and more.
Find High Quality Weed Seeds For Sale Online Today
Find high quality weed seeds for sale online now when you shop with Growers Choice Seeds. We carry a huge selection of Palm Coast marijuana seeds, all completely ungerminated, and backed by our germination guarantee. All of our marijuana seeds are fully feminized for your convenience. Shop online today for fast delivery in as little as one week, and sign up for our email newsletter for a chance to win free marijuana seeds.
Most Popular Marijuana Seeds in Surprise