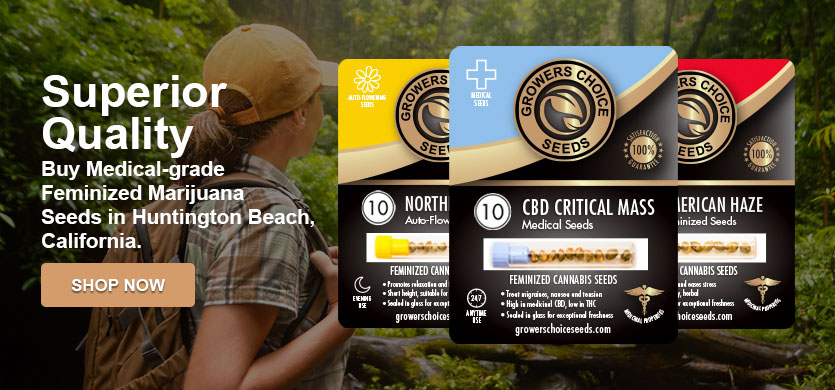 How do you get a medical marijuana card in Huntington Beach?
It goes without saying that California is a relatively liberal state, and they have had a medical marijuana program in place here since back in 1996. That means patients suffering from a relatively small list of conditions (including anorexia, arthritis, chronic pain, glaucoma, migraines, severe nausea, seizures, and any debilitating illness where the use of medical marijuana has been "deemed appropriate and recommended by a physician") have been able to possess, use, and cultivate ganja. According to state law, you must be diagnosed with one of these qualifying conditions and obtain written proof from your doctor, as well as apply for and register with the state's program. You may wonder why, since recreational pot use is now legal in California, you would want to bother with the bureaucratic red tape. If you're planning on cultivating your own marijuana at home, the hoop-jumping is worth it. Presently, there is no set limit for how many Huntington Beach marijuana seeds (available for delivery when you shop online with Growers Choice Cannabis Seeds) you can plant if you have a medical card, whereas recreational users are only allowed up to 6. 
Marijuana seeds for sale in Huntington Beach
This does not mean that you should discount THC-heavy strains, though, because marijuana high in THC has also been shown to have some potent medical benefits. The hallucinogenic properties can also be avoided if you practice microdosing.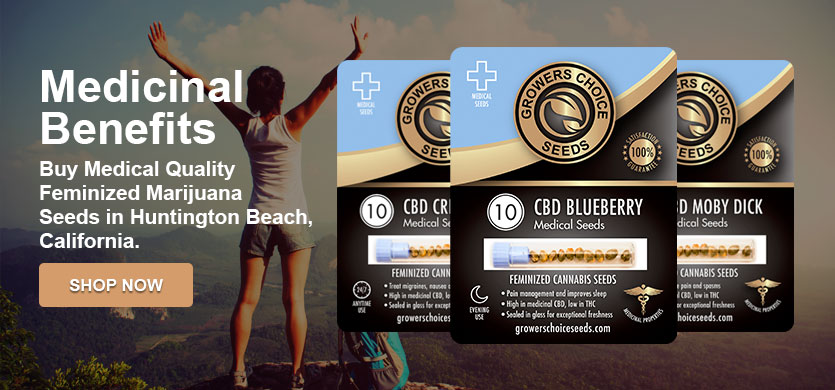 Can I grow marijuana seeds legally in Huntington Beach?
We mentioned above that medical patients are legally allowed to cultivate marijuana for personal use, particularly if their therapy garden is accompanied by a prescription from their health care provider. As yet, there is no limit to how many plants a patient can grow.
Much to every Californian's delight, recreational growers were given the go-ahead to plant their own marijuana seeds in 2016, though they have been limited to a total of 6 plants and the subsequent harvest
Buy marijuana seeds in Huntington Beach
Now more than ever it's important to know and trust the provenance of your herbal medications, which is why we fully support your mission to grow your own Huntington Beach marijuana seeds, the best of which you can purchase online from Growers Choice Cannabis Seeds. We carry some of the world's best weed strains, all carefully cultivated by our team of horticulturalists with over 40 combined years of experience in the business. Each seed is hand picked and inspected for quality and freshness, every order sealed in medical-grade glass vials and shipped from our facility in Canada to your Huntington Beach home address. We ship anywhere in America, and offer a 90% Germination Guarantee on every order.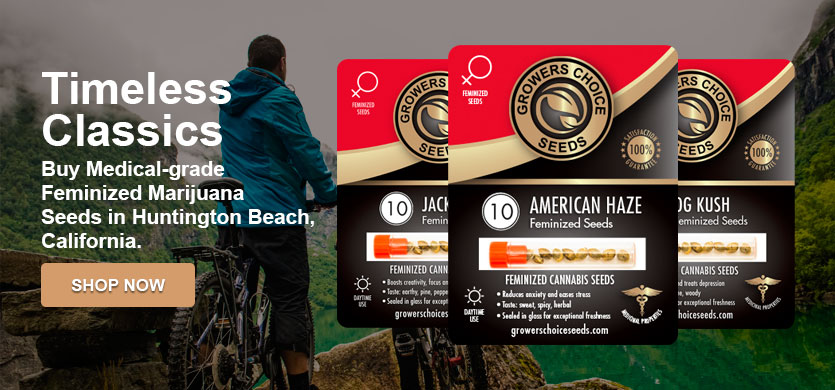 Compare Our Cannabis Seed Strains
Is there a difference between medical weed and recreational?
When discussing marijuana, it's easy to get caught up in the terminology – medical this, recreational that… and don't even get started on the names of different marijuana strains, of which there are nearly 800, if not more. "Medical" is really just a term that designates a particular strain for therapeutic and clinical use. In a lot of cases, people will consider CBD-rich strains to be medical because they have no psychoactive side effects and are therefore much easier to prescribe to a wider range of patients, including children and the elderly.
What are some good medical marijuana seeds?
If you specifically want to purchase marijuana seeds for medical reasons, or because you're looking for a strong body high without the euphoric head trip of a THC strain, consider planting these medical strains in your therapy garden:
We're hitting all the right marks in Huntington Beach
I'm happy with everything, from ordering to shipping, even the customer service was available when I needed to talk to someone. I've ordered several times from Growers Choice, and I'll keep ordering, because they know what customers want – great quality and efficient service.
Most Popular Marijuana Seeds in Surprise