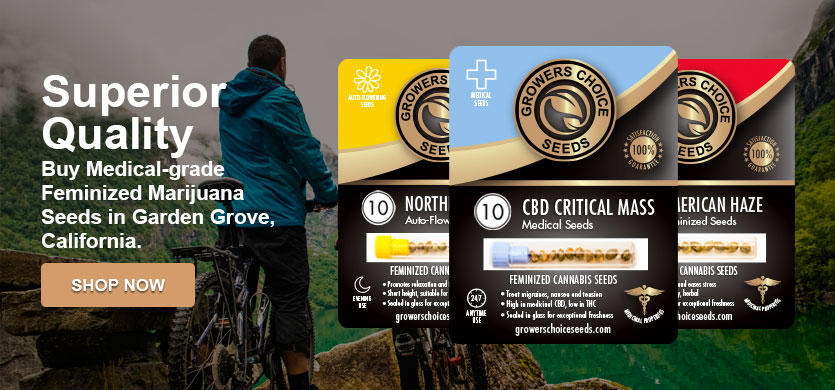 Can I legally use weed in Garden Grove?
Garden Grove, CA patients have been able to use medical marijuana since it was legalized by the state back in 1996. The list of qualifying conditions is relatively short, compared to other states, but there is a caveat that allows any patient with a condition that "any debilitating illness where medical use of marijuana has been deemed appropriate and recommended by a physician" is also allowed. Adding to that, California passed a law in 2016 that legalized recreational use and cultivation of marijuana (up to six plants).
Buy marijuana seeds in Garden Grove
Ready to set up your medical garden? Always start with the best quality seeds, which you will find when you shop online with Growers Choice Cannabis Seeds. We carry a curated selection of popular and potent strains from all over the world. We hand pick our seeds so our team of experts can inspect each one for quality and freshness, before they are packed in medical-grade glass vials and shipped from our facility in Canada to your front door in Garden Grove. We deliver everywhere in the US, and offer a 90% germination guarantee – if your seeds don't germinate, we'll gladly replace them!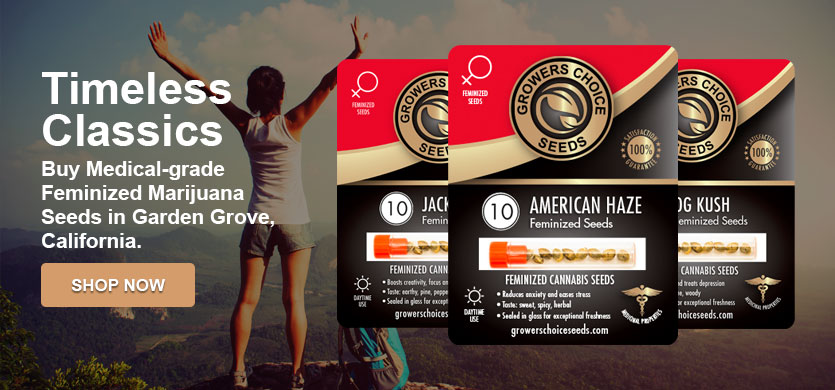 Marijuana seeds for sale in Garden Grove
Super strains include:
OG Kush (27% THC)
White Widow (26% THC)
Critical Purple (27% THC)
These strains will put a beginner on their butt, so they definitely aren't for the faint of heart, though microdosing is a great option for users wanting to take advantage of the potent pain relief without the trippy head high
What makes some marijuana seeds more potent than others?
The potency of a marijuana strain is attributed to the level of cannabinoids that occur at the cellular level. Of the 80 or so cannabinoids present in the cannabis plant, the most prevalent – and those that have been proven to provide the most benefit – are THC and CBD. Recreational users tend to prefer THC rich strains for their hallucinogenic properties, while patients often opt for CBD because it does not have associated psychoactive side effects.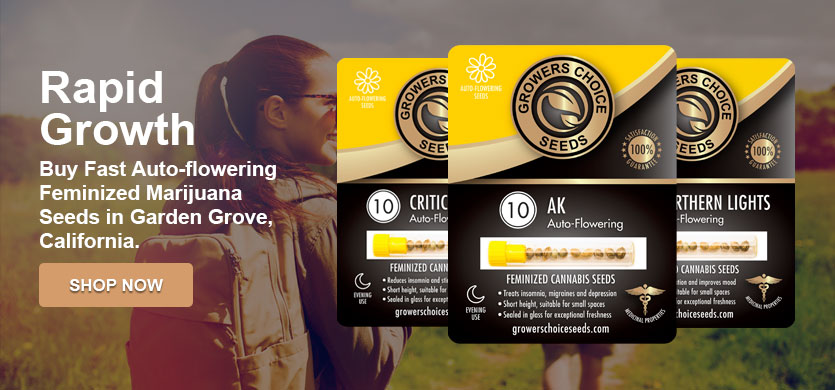 Compare Our Cannabis Seed Strains
Are marijuana seeds stronger now than they were in the 70s?
If we look to Cheech and Chong as the barometer of marijuana appreciation back in the 1970s, it be safe to say that a lot of folks felt pretty fine about this plant as a whole. Of course, we know better, seeing as how the federal government crack down drove a wedge in society, separating peaceniks and Reaganites right down the green line. A lot about cannabis culture has changed since those glory days, including the availability of marijuana, the number of different strains, and the potency of certain plant breeds. Would we say that marijuana today is stronger than it was back then? No, a single strain, like Northern Lights, will not have magically developed the capacity to contain more THC over time. That said, thanks to dedicated and savvy ganja gardeners, you are sure to run across breed blends that contain more THC or CBD than would have been seen a few decades ago. Looking to purchase top quality Garden Grove marijuana seed strains with higher levels of THC and CBD? Look no further than Growers Choice Cannabis Seeds online – we deliver anywhere in California.
Getting great reviews from our customers in Garden Grove
I highly recommend Growers Choice, their service is fast and uncomplicated, and the seeds were all fantastic. No problems with germination. No problems getting in touch with them when I needed some help. I'm a very satisfied customer, and I've been shopping with them for awhile now. Best shop on the Net, I think.
Most Popular Marijuana Seeds in Surprise