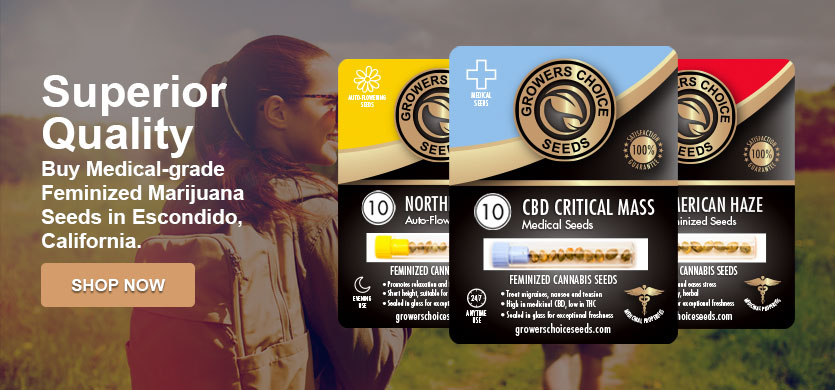 Can I legally grow marijuana in Escondido?
California has made it clear how the state feels about sticky icky – pretty positively! In 2016, California decided to become one of the few states in America to legalize the use of recreational marijuana, along with the likes of Washington, Oregon, and, of course, Colorado. Both recreational users and patients participating in the medical marijuana program are legally allowed to grow their own weed at home. Where rec users are only allowed 6 plants, a limit hasn't been placed on the amount of plants a patient can propagate at home.
Buy marijuana seeds in Escondido
Now more than ever, it's important to be able to trust the authenticity and veracity of your Escondido marijuana seeds, and you'll find the freshest, most potent strains online when you shop with Growers Choice Cannabis Seeds. We've compiled a list of top-quality strains, all carefully cultivated and hand-picked by our team of experts to guarantee freshness. We pack every order in medical-grade glass vials which ensure viability on delivery, and ship anywhere in North America. Additionally, we offer our customers a 90% Germination Guarantee – if your seeds don't germinate, we'll replace them!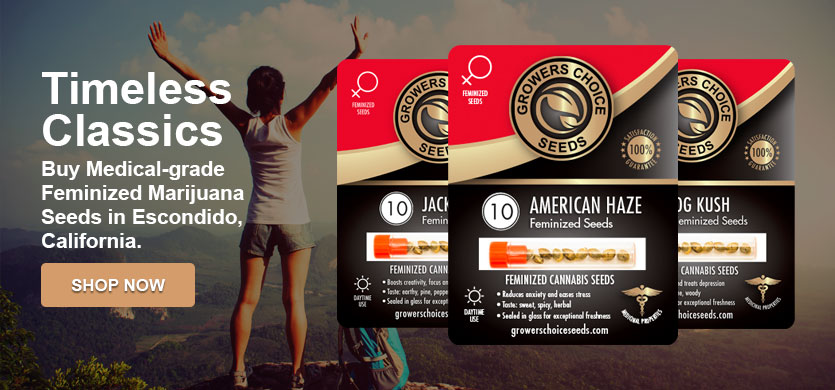 Marijuana seeds for sale in Escondido
It's important, however, to note that this psychological effect may be more prevalent in some users than others, so responsible and careful experimentation is key when considering a new marijuana seed for therapeutic purposes.
Compare Our Cannabis Seed Strains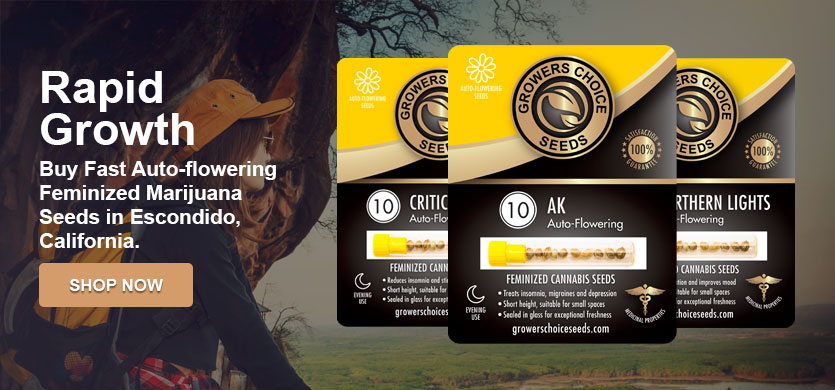 Which is better – indica versus sativa marijuana seeds?
Marijuana genetics are as simple as they are complicated. There are three subspecies of this world-famous plant – cannabis sativa, cannabis indica, and cannabis ruderalis. For medical and recreational purposes, we tend to stick with the sativa and indica strains because of the levels of THC and CBD present in those strains, although ruderalis (also known as hemp) does contain usable levels of CBD and is often chosen as an alternative to the former strains because it contains little to no psychoactive cannabinoids. Because sativa and indica strains both offer a different variety of effects, it's impossible to say which is better than the other, although each are more suited to treating different conditions than the other. That said, today you'll find there are very few pure indica and sativa strains left to choose from, as many growers have discovered the benefits of cross-breeding the two in order to develop strains that are "the best of both worlds." You'll find excellent examples of hybrid Escondido marijuana seeds when you shop online with Growers Choice Cannabis Seeds – we deliver across North America.
What are indica weed seeds good for?
Ideally, if you are a patient dealing with a condition like multiple sclerosis, glaucoma, chronic pain, or even sleep disorders like insomnia, you're more likely to turn to a marijuana seed that is higher in indica than you would a strain higher in sativa. In general, indica strains like CBD Blueberry are great for physical ailments like pain and inflammation because of their characteristic "couch lock" or body high.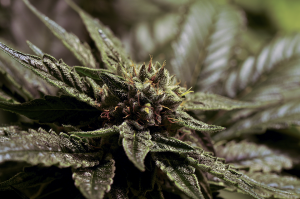 What are sativa marijuana seeds good for?
As they tend to be higher in THC, sativa strains like Power Plant have been called highly effective at treating conditions that are related to mental health issues such as depression and ADHD, although they have been known to exacerbate anxiety and create paranoia.
What are customers in Escondido saying about Growers Choice?
I've been a very satisfied customer of Growers Choice for awhile now. They're always friendly, always discreet, and always super efficient. The stock is good too, good quality – all the seeds I've ordered have germinated. No complaints from me, that's for sure. Great company.
Most Popular Marijuana Seeds in Surprise