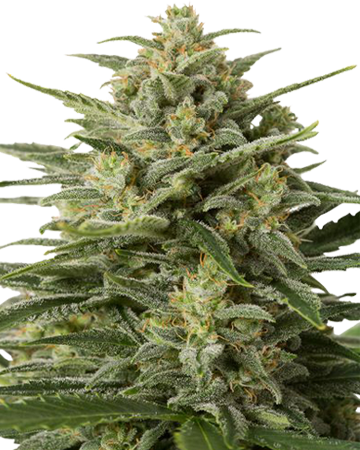 Buy White Widow Cannabis Seeds
Buy Wholesale White Widow Seeds
1. Breeding History
1.1 White Widow Origins
White Widow is one of the most famous, sought-after, and oft-awarded strains of cannabis in existence. It shares its ancestry with both sativa and indica cannabis, resulting in what is generally known as a "balanced" hybrid. The unconfirmed history of White Widow tells of a long period of selective breeding between the two types, which eventually led to strain's high resin content and, in turn, its high level of THC. White Widow is thought to have been created by pollinating a pure Brazilian sativa plant with an indica-hybrid from Southern India.
1.2 A Popular Cannabis Seed Strain
First released in the early 1990s, and awarded the Cannabis Cup in 1995 (it may have been released this year, or earlier – its date of origin is somewhat foggy), White Widow is offered today by many different companies, and has been developed as both feminized and regular strains. Recognition for its initial conception, however, belongs to a grower in The Netherlands.
1.3 White Widow, The Parent Strain
Not surprisingly, due to the glowing reviews and recommendations White Widow receives, the strain serves as the foundation for newer hybrids – some quite well known in their own right – including White Russian, White Rhino, and Blue Widow. It is generally agreed that any Top 10 list worth its salt will feature the much-lauded White Widow strain.
2. Physical Appearance
2.1 The White Widow Name
Perhaps one of the most recognizable cannabis strains, White Widow is immediately identifiable by its mostly white appearance. Though it has the long, bright green leaves common to sativa strains, the buds and most visible parts of the plant are covered in thick, white, crystallized resin – the origin of the name White Widow – giving it a "sugared" look.
2.2 The Significance of Resin
The resin coatings, which make up much of the plant's THC content, are called trichomes: crystallized hairs that affix to the leaves and buds of all marijuana plants. Six different glands are responsible for the production of this resin and, in the case of White Widow, a very large amount is created.
As the flowering process goes on, the trichomes continue to thicken, with the resin building upon itself, until much of the White Widow plant is covered in this grainy, sap-like substance. One result of this excess of trichomes and resin is a high yield of potent buds, another trait for which White Widow is known.
3. Grow Your Own AK Auto-Flowering Cannabis
3.1 Best White Widow Methods
White Widow was engineered to thrive in an interior, hydroponic garden. However, because the strain is a pro at resisting mold and can tolerate colder climates, it can be grown outdoors with care. White Widow is relatively easy to tend, which makes it a suitable choice for amateur growers.
3.2 Growing Details
Plenty of light is required for growing White Widow, and though a warmer environment will produce the best results, the strain is hardy enough to withstand colder temperatures. Even though the plants can grow quite tall if given enough time in each stage, White Widow is often late to rise, not protruding from the soil for five or six days after planting.
3.3 Growth Period and Yield
Once it has peeked its little sprout above the soil, White Widow plants will require anywhere from four to eight weeks in the vegetative stage, depending on the type of lighting you are using. Once the switch is made to the flowering stage, it will be about eight to nine weeks before White Widow is ready for harvest.
Buy White Widow Cannabis Seeds
Buy Wholesale White Widow Seeds
4. Flavor and Effect
4.1 White Widow Scent and Flavor
White Widow offers patients rich earthy and woody flavors, with sweet and pungent notes. Users report spicy, fruity undertones, with pepper and spice scents.
4.2 Effects and THC Content
Despite the fact that White Widow is technically an indica-dominant breed, it tends to take after its sativa relatives when it comes to the effects of the high. But while it certainly creates the social, energetic "euphoria" for which sativa is known, White Widow is also described as relaxing, thanks to its indica roots. The strain has a piney or peppery taste and a lingering citrus flavour.
Though memorable enough with its approximately 20% THC level, White Widow also has a relatively high CBD level, with some plants recording up to 1%. Keep in mind, while THC levels in the high teens are considered notable, just 4% CBD is considered very high.
4.3 An Excellent Medical Strain
With its calming and energizing properties, White Widow is considered of medical benefit for a great many ailments. In addition to anxiety, insomnia, and cramps, the strain has also been touted as a relief for chronic pain, migraines, and even multiple sclerosis and seizures.
Medical studies involving White Widow have looked particularly at the plant's ability to aid patients suffering from Hepatitis C. This blood-borne pathogen has afflicted millions of Americans, and gives rise to several symptoms including fatigue, loss of appetite, joint pain, headaches, and nausea. White Widow, along with other marijuana strains, can offer relief from many of these symptoms. Cannabis compounds – including those shared with other, oft-consumed vegetables – are also thought to reduce inflammation.
One of the major selling points for marijuana over other drugs in the treatment of Hepatitis C is the toxicity level. While some pharmaceutical drugs wreak havoc on the liver, resulting in long-term problems that persist beyond the original illness, marijuana does not appear to cause liver damage.
5. Buy AK Aut-Flowering Cannabis Seeds
5.1 Buy the Best White Widow Seeds
At Growers Choice, we sell only the best cannabis seeds – lovingly tended and hand-selected by expert breeders. When you order from us, you know you can rely on the product you receive. Your order is shipped in padded, discreet packaging, and your seeds are safely stored in medical-grade glass vials that ensure they remain fresh and viable until you're ready to use them.
5.2 White Widow Germination Guarantee
And did we mention our outstanding germination promise? All Growers Choice cannabis seeds are backed by a 90% germination guarantee. If at least 90% of your seeds don't germinate, we will replenish your supply with a new shipment, absolutely free of charge. All you need to do to ensure you remain eligible for the guarantee is follow our simple Germination Method.
Buy White Widow Cannabis Seeds
Buy Wholesale White Widow Seeds